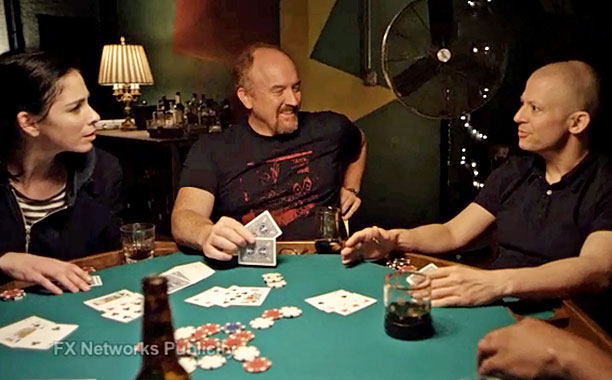 I finally figured out why I love Louie so much. It's basically this century's Joe McDoakes.
After a 19-month hiatus, Louie C.K.'s brilliant half hour returned for a fourth season on FX and FX Canada (Mondays at 10 p.m.). The first two episodes, which aired back-to-back May 5, found the 46-year-old stand-up comedian in hell as usual–trying to balance his kids, his career and his torturous social life. Two more episodes air this Sunday and so on for seven weeks until June 16.
No topic is too dark or taboo for Louie. The season premiere found him sitting around playing cards with his comedy club pals–Sarah Silverman, Rick Crom, Nick Di Paolo, Jim Norton and William Stephenson–discussing masturbation. It was ridiculously funny.
The scene was partly improvised, no surprise if you've seen it. It looks like comedians sitting around goofing on each other. (Apparently the inspiration was a real-life poker game Stephenson hosts with his comedy club pals.)
The amazing thing about Louie is that one minute it's crude and scatological, the next uplifting and inspirational. There are tender moments with his two young daughters that are breathtaking for their honesty and wisdom–and others that are just so wrong, yet so real.
Or even surreal. The new season began with a scene showing Louie rudely awakened by a clanging, gang-like New York garbage crew. What happens as the short scene unfolds is impossible–almost dream-like, or, better yet, just awakened-like–yet so relate-able.
Which brings me back to Joe McDoakes. This forgotten series of Warner Bros. one-reelers was produced in the late-'40s and well into the '50s, the tail end of the golden age of movie shorts. Cinemas stopped showing even Three Stooges shorts once television took over as the place for half-hour comedies.
McDoakes, played by George O'Hanlon (who later was the voice of George Jetson in The Jetsons), was this everyman/loser who appeared in 63 of these black & white gems. They all had titles like, "So You Want to be a Plumber," or "So You're Going to the Dentist." They were made for peanuts, produced by a resourceful fella named Richard Bare. (He went on to direct many episodes of Green Acres.) Each episode began with hapless McDoakes coming out from behind a giant 8 ball.
Which, basically, is Louie. The McDoakes comedies had no arc; they were just a series of free-standing situations. Three different actresses played McDoakes wife and nobody blinked. He could be a father, be nervous or have a gambling problem one episode and none of the above the next. He was just going to be put-upon, and it was going to be funny.
Louie lives in more of an urban jungle but what is the same is that permission has been granted–by the audience–to break all the rules.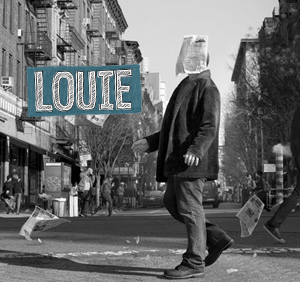 Joanne Ostrow at the Denver Post calls Louie "the everyman of post-modern comedy" and that's exactly right. He is Joe McDoakes Junior, an unwanted grandchild dumped off and raised in a New York comedy cellar.
This unfiltered glimpse inside the comedy world also holds a great fascination for any of us who has ever braved an open mike night. Louie C.K. takes an unblinking look at the seedy side of comedy clubs–the bitter rivalries, unhealthy lifestyle, anger and depression. One of the fourth-season opening week episodes saw Louie get a last-minute request from Jerry Seinfeld to fill in as his opening act at a Hamptons' charity event. When Louie turns up in his usual black-T and jeans, Seinfeld is pissed off and disgusted. Thrown into a security guard's jacket, Louie bombs in front of the well-heeled crowd of "trillionaires" and a peeved Jerr ruthlessly throws him under the bus.
Seeing cold, dark Jerry operate in what has also been called a "Dark Seinfeld" is very interesting. C.K. somehow gets big name comics like Seinfeld and Chris Rock to show their warts (or our assumption of how they behave off camera). Seinfeld bravely takes this to a whole, new, ego-less level.
There is one young woman, however (played by Yvonne Strahovski, the sexy Chuck spy now on 24: Live Another Day), who laughs her head off at Louie's brutal performance. Turns out she's a model, loved that he was so wrong for the event and whisks him back to her ocean-side mansion, where they have sex. The bizarre dream date quickly turns into a nightmare with far-reaching consequences–none of which will likely be imposed on Louie's world as we head into episode three. Again: Louie and McDoakes come from the same non-binding world of the great comedy shorts.
Victor Garber snuck in effectively at the end of that episode. Charles Grodin also had a very dry turn last week as a brutally shut down M.D. This Sunday (May 11) in "So Did the Fat Lady" (more echoes of McDoakes), a waitress at the comedy cellar (Sarah Baker) takes a shine to Louie; the two make a sweet pair. In the second episode, Ellen Burstyn guests as a lady stuck in an elevator. What follows goes beyond McDoakes and straight to Buster Keaton.
As Patton Oswald Tweeted the other day, "Should we even be watching @LouieFX? 'Cause if feels like it's being beamed to us from a better universe."