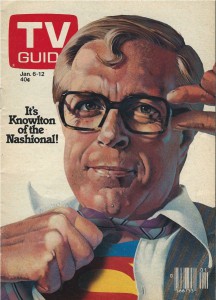 Peter Mansbridge has been CBC's chief news anchor for so long it is almost hard to remember who came before him. Knowlton Nash was his name, and he died on the weekend at the age of 86.
I was fairly new to the TV reporting racket and working at TV Guide when Nash stepped down to allow Mansbridge to succeed him.  The hand-off was a big deal; Mansbridge was being courted by CBS at the time. This also was a time when the CBC National News was the top news draw in the country.
"Knowlton Nash" is such an old-fashioned, unusual name. It sounds like a defunct line of automobiles from the '40s.  I remember speaking to him on a few occasions around the time he released a biography or two and remember him as gracious and self-effacing, humble yet authoritative. In short, pretty darn Canadian.
Somebody who interviewed Nash several times during his CBC News heyday was my colleague Ray Bennett, who shares his memories along with an extraordinary feature he wrote about the newsman. The story appeared in a 1979 edition of TV Guide Canada and boasts one of that magazine's most original cover illustrations ever. It's a spry, engaging read and takes you back to an era when not only newsreaders were a whole different kettle of news-fish, but magazines ran pieces of depth, insight and illumination. You can check it out here on Ray's blog, thecliffedge.com.