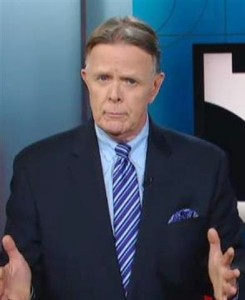 One brief word on Thursday night's Ontario Provincial election coverage. My Facebook news feed or whatever they're calling it this week is turning purple today with folks objecting to CBC political commentator Robert Fisher describing premier Kathleen Wynne's sexual orientation as "a lifestyle choice."
People, for goodness sake, cut the dude a break. Mr. Fisher was covering his 10th provincial election. The former Global Queen's Park bureau chief calls guys like Peter Mansbridge "Kid." He's so old, Larry King complains about him still being on the air.
Now, sure, mock Fisher for adopting a Shemp Howard hair style. That's fair game. There's no excuse for that.
During Thursday night's live election coverage, however, he was simply trying to make an empowering point: how awesome it is that we in Ontario live in a land where gender and sexual orientation has zero bearing on the outcome of an election. Celebrate that message and give the messenger the break he deserves.