Despite all the talk about PVRing and streaming and on-demand, the TV game–when it comes down to eyeballs and ad dollars–is still a lot about scheduling. Take Wednesday's Shaw Media 2014-15 fall season announcements in Toronto.
Shaw Media Executive Vice President Barbara Williams did her usual presentation for the press Wednesday morning, leading with Shaw's dominant lineup of specialty networks. Williams claims Shaw airs six of the Top-10 specialty programs. Big moneymakers such as History, Showcase and Food had big years with Vikings, Timber Kings and Chopped Canada. There are 90 returning shows on Shaw specialty channels, with 50 rookies set to join schedules. Twenty-two of those returning shows are Canadian, and the Top-10 shows on HGTV are all Canadian.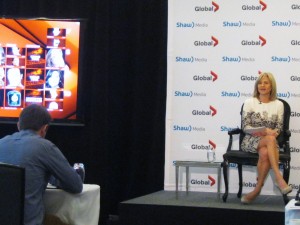 One specialty series was so successful, in fact, that it is getting bumped up to broadcast next season: Big Brother Canada. The reality show was posting NHL game-like numbers on Slice.
Showcase will get a big programming boost August 24 when the Scotland-based time travel drama Outlander debuts.
Specialty aside, Williams got down to her smartly put together Global schedule. Whether or not you feel this fall's offerings of U.S. fare is less than exciting or a bumper crop, it is hard to imagine Williams' having played a better hand.
First of all, she took full advantage of a rival network's decision to get out of the 10 p.m. race. Rogers announced Tuesday that they were shrinking their City schedules and posting reruns week nights from 10 p.m. to 11. Their focus, and investment, is in hockey.
Well, Williams pounced like a raven on a road kill. Three of her new imports are 10 p.m. simulcasts, including November start State of Affairs. The new CIA drama with Katherine Heigl. She also bought Stalker, a creepy, woman-in-jeopardy Wednesday night pick-up and the comic book action hour Constantine, which begins in October.
Williams said 10 p.m., Thursdays and Sundays were her big priorities heading into the LA screenings. Thursdays are suddenly more of a Wild Card with CBS moving comedy juggernaut The Big Bang Theory out of the mix for most of the year Stateside. Global will open a night with a series which performs well where ever it plays–Bones–flowing into one of the most intriguing new shows of the season, Gracepoint. This is the Americanization of the acclaimed British series Broadchurch, complete with David Tennant–albeit with an American accent–reprising his cop role from the U.K. original. At 10 on Thursdays Williams starts the season with the last few episodes of Parenthood–never a big draw in Canada–giving way in October to the stronger import, Elementary.
Rogers has flow to their Thursday, too, but they're counting on The Bachelor Canada finally lighting a fire under Scandal. Gracepoint could snuff out that spark.
The big battlefield is Sunday, a night where CTV has been dominant in total viewers for over a decade. Their ace, however, The Amazing Race, has been dealt to a much weaker night on CBS. Cable competition, such as AMC`s The Walking Dead or PBS`s Downton Abbey–can be fierce. At 8 o`clock, however, the door has been left open, and in walks Williams with Madam Secretary.
Tea Leoni stars as a strong women plucked from the heartland to be U.S. Secretary of State. It's an attractive, empowering show, perfectly paired at 9 with another CBS simulcast, The Good Wife. Back-to-back chick flicks picks off viewers not drawn to Rogers bold move to schedule Sunday night NHL games on City. The Rogers brass say The Leafs will be playing more Sunday hockey than ever, but they can't be the home team every week.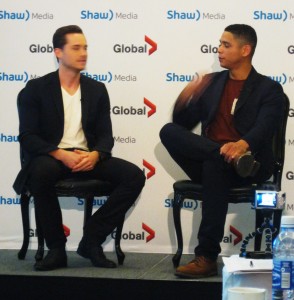 Where is Global's simulcast of Fox's decade-long Animation domination lineup? Don't have a cow, but, after 20 years, The Simpsons is not on Sunday at 8 on Global. Canny Williams, however, has bracketed her female tandem with 'toons at 7 and at 10. Just as the Leafs head for the showers, you can switch back over the Global for The Simpsons. As Mr. Burns would say, "Excellent!"
CTV will present their side of the scheduling picture Thursday at the Bell upfront in Toronto. They, too, feasted on Rogers strategic decision to mostly sit out the LA show-buying spree. Williams set the bar high with her sked, carefully adding one new show per night (except Sunday where the new comedy Mulaney will kick things off at 7).  A whopping 14 1/2 hours of William's schedule is in simulcast.
Also joining the Global schedule next season, to the surprise of no one, is NCIS: New Orleans starring Scott Bakula. In the wings is the short order Heroes reboot Heroes Reborn. They also picked up Mark Burnett's four-hour miniseries The Dovekeepers. A few new imported comedies were scooped from the screenings, including the romantic comedy A to Z (featuring How I Met Your Mother's Cristin Miloti), but where and when they'll surface will depend on other shows stumbling this fall.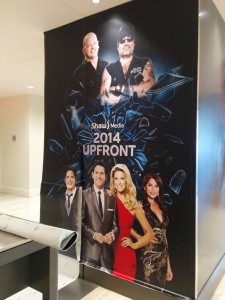 Williams never sweats the lack of Canadian content on her September schedule. Start with the pricey imports, draw eyeballs, ease Can-con in later has long been her ploy. It seemed to work for Remedy, back for a second season. Big Brother Canada and Rookie Blue will be back later, with Package Deal set to air its second season in September.
Williams danced around my question as to the fate of Working the Engels. NBC premieres the Andrea Martin comedy in a few weeks for a summer run, and it would look bad if it was canceled here before it aired there. Williams said some second season scripts have been ordered, and she'll wait and see how it does stateside.
Shaw flew some talent in for the press preview including Charlie Barnett (Chicago Fire) and Jesse Lee Soffer (Chicago PD), Constantine's Matt Ryan, Sleepy Hollow's Orlando Jones and Leslie Odom Jr. from State of Affairs.  They and others will mingle with ad types Wednesday night at the Arcadian Court, the old Simpsons restaurant and event hall that will seem pretty cramped after that Rogers SkyDome ad extravaganza.