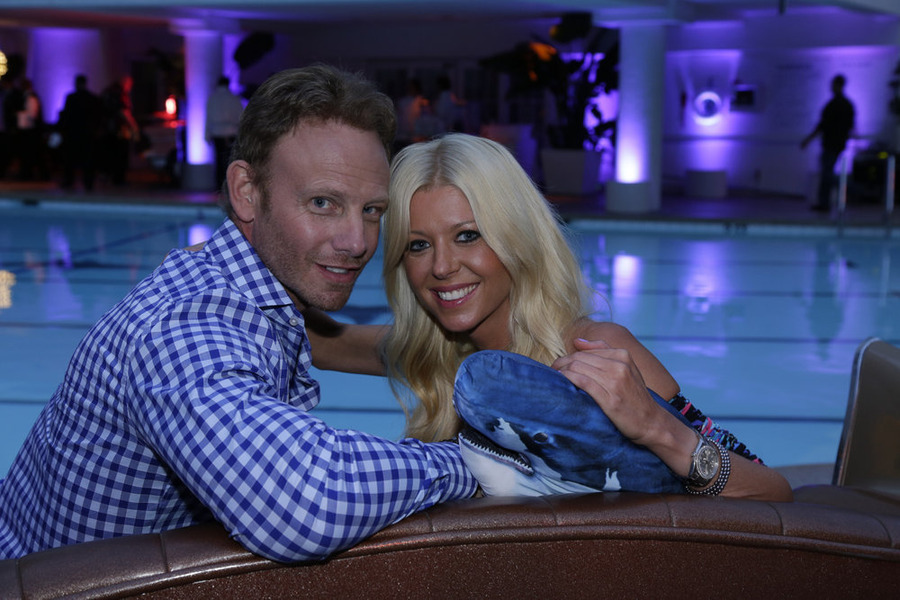 BEVERLY HILLS, Calif.–Just like Godfather 2, Sharknado 2: The Second One is even better than the original. The movie, which debuts July 30 on Syfy and Space, was screened for critics Monday night, projected outside on the wall over the pool at the Beverly Hilton. The network did a nice job dressing the pool area with cool classic car-themed sofas, drive-in speakers and plenty of popcorn and candy munchies. They also persuaded stars Ian Zierling, Tara Reid, Vivica A. Fox, Judd Hirsch and others to sit poolside for the screening.
The film is so ridiculous it is irresistible. Robert Hayes, for crying out loud, appears briefly as an airline pilot. Hirsch is cast as a taxi driver! Robert Klein appears as the mayor of New York after attempts to wrangle Rudy Giuliani and even Donald Trump went south. There are cameos from everybody from Jared the Subway guy to Andy Dick (as a cop!) to one of the Shark Tank millionaires to NBC Today Show hosts.
The film's director is no stranger to press tour–up until last year, Anthony C. Ferrante was working the semi-annual critics convention as a reporter. There may be hope after all! Ferrante pulled together last year's Sharknado which became an overnight, social media shark-sation. This new movie was whipped together at record speed. Shot in February in New York–in sub zero temperatures–Ferranter says he's still pulling together elements for the TV premiere and pending DVD release.
The film finds Zierling dragging chain saw blades through sharks. He battles them from the pointy top of the Empire State Building and down in the subway. At one point, the head of the Statue of Liberty is severed and rolls through the streets of Manhattan, crushing people left and right. Cool, right?
Screenwriter Thunder Levin deserves praise for his complete lack of restraint or shame. Two fins up. Best enjoyed in larger groups with open bars.