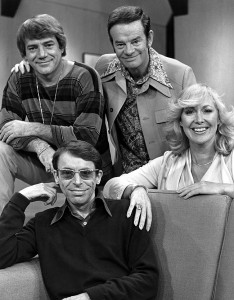 STOP READING THIS RIGHT NOW and get down to the Bell Lightbox. Sunday at 2:30, I have the great pleasure to host an afternoon of TV awesomeness from the '60s and '70s. Things kick off at 2:30 p.m. with a newly-transferred digital gem from my 16mm TV on Film collection: We've Got it All Together. This was CBS's 1970-71 Fall Preview reel. Most of their rookies bombed that year, including Arnie and The Interns, but one sure stuck around: The Mary Tyler Moore Show. See the test reel from the series, a scene that wasn't quite there yet between Moore and Ed Asner.
Next is a screening of an episode of a series I was addicted to as a kid: Party Game. The CHCH series ran 10 seasons and pitted the Home Team (Capt. Jack Duffy, Billy Van and Dinah Christie) against comedians and Canadian TV and film personalities from all across Canada. As the visiting team, the episode we'll screen Sunday afternoon features three original member of the Royal Canadian Air Farce before they were Air Farces–Roger Abbott, Don Ferguson and Luba Goy. Both Christie and Goy will be on stage after the screening.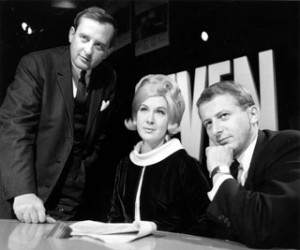 Christie will remain on stage for a screening of one of the most influential TV shows Canada ever produced: This Hour Has Seven Days. The 1965 episode features several eye opening moments, including Patrick Watson's nervy interview with Orson Welles and a surprise, in studio confrontation between two grand wizards of the KKK and a Black activist. The '60s at its most sizzling. Christie, who was part of the show, will explain how this made heads explode inside CBC corporate offices.
Finally, another rare gem: The Hart & Lorne Terrific Hour. Come see the show that was the prototype of Saturday Night Live. Hart Pomerantz will answer questions and we'll also be joined by a key member of the house band–Lighthouse–Paul Hoffert.
What, you're still reading? Head downtown now! Tickets, if there are any left, can be obtained here.