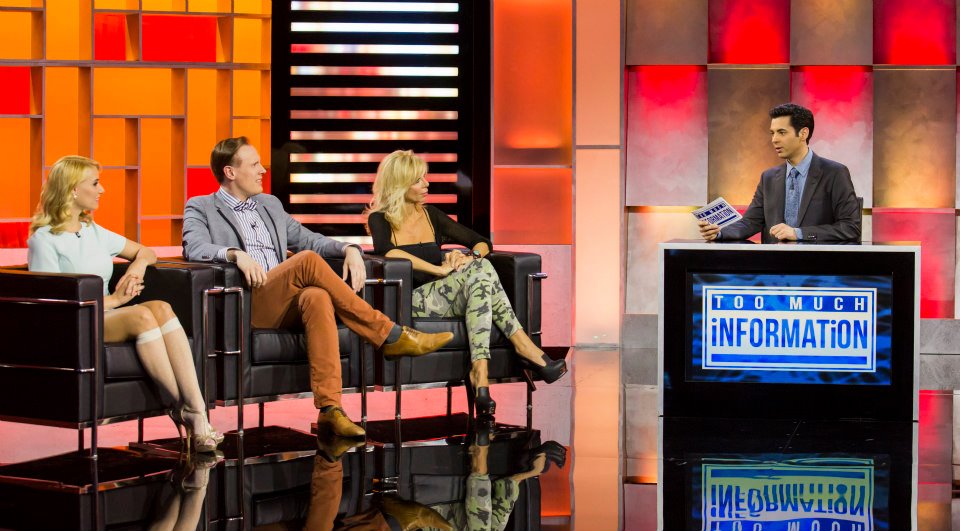 Shortly after winning two silver medals at the 1968 Olympics, swimmer Elaine Tanner appeared as the mystery guest on Front Page Challenge. The popular series ran for decades on CBC, from 1957 to 1995.
When the young swimmer's identity was revealed, panelist Gordon Sinclair, a well-known and occasionally irascible Toronto radio personality—kind of the Don Cherry of his day–asked her a blunt question: does menstruation affect the performance of female swimmers?
Back in the '60s, this was way too much information for television networks and audiences. The incident was a cause celeb in Canada. Sinclair and the CBC had to issue apologies. Members of Parliament demanded the broadcaster's resignation. (He stayed with the show until his death in 1984).
These days, you can never have too much information on television—especially on cable or specialty. Hence the premiere of Too Much Information, a comedy panel series now running Tuesday nights on Super Channel.
The series, from Toronto's Lone Eagle Entertainment, features a host, Norm Sousa, and six comedian panelists per show. Many will be familiar faces to TV viewers, including Geri Hall ("This Hour Has 22 Minutes"), Naomi Sniekus and Mark Forward ("Mr. d") and Lauren Ash ("Super Fun Night"). Others comedy fans will know from "Just for Laughs" and club appearances, including Carla Collins, Dave Merheje, Andrew Johnston, Sitara Hewitt, Fraser Young, Aisha Alfa, Boomer Phillips, Kayla Lorette, Marty Adams, Justin Landry and Nicole Arbour.
The comedians are challenged to come up with too much information on a variety of provocative topics, including sex, drinking, fetishes, the paranormal, religion and social media. Sousa decides which of the two teams wins at the end but the points awarded matter about as much as they did on "Whose Line is it Anyway?"
For more on the series, follow this link to the feature I wrote for The Canadian Press.