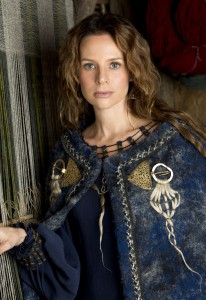 When I ran into the lovely Jessalyn Gilsig at the TCA press tour in January she couldn't tell me much about Season Three of Vikings, which just began a few weeks ago. The writer-creator of the show, Michael Hirst, was standing a few meters away and he likes to keep his surprises a secret.
What she did strongly suggest, however, was that I would want to speak with her at some point this season. Since Vikings is a show were characters get eliminated like reality show contestants, I figured her character Siggy was headed for a Viking funeral.
Sure enough, I got a message two weeks ago that the Montreal-native was ready to talk. She filled me in on Siggy's exit.
The episode aired last Thursday. The surprise was that Gilsig approached Hirst and asked to be written out of the show. She loved the role, the other actors the crew, but the six months on location in Ireland was taking a toll on her young daughter. Gilsig chose family over career.
Exactly how that played out is a beautiful story and you can find it here at theStar.ca. Hirst, who writes every script, crafted a storyline perfectly in sync with Gilsig's reasons for leaving the show.
If you haven't seen the episode, stop reading this now, spoiler ahead.
Siggy spots two young children in her charge wandering off onto an ice-covered lake. The two tykes fall in through the ice. She dives in and rescues them, but cannot save herself.
"Interesting," I said to her on the phone. "She sacrifices herself to save children."
"You're the first one who got it," said Gilsig, after an emotional beat.
There are more epic adventures ahead on Vikings this season, including the attack on Paris. Gilsig won't be part of that, but at least she'll always have Dublin.
You can also see her in the series finale of Glee, airing Friday night. She was happy her old Nip/Tuck producer pal Ryan Murphy invited her back for the high school musical sendoff.
Vikings airs Thursdays at 10 on History. You can stream Siggy's soggy exit at History.ca.