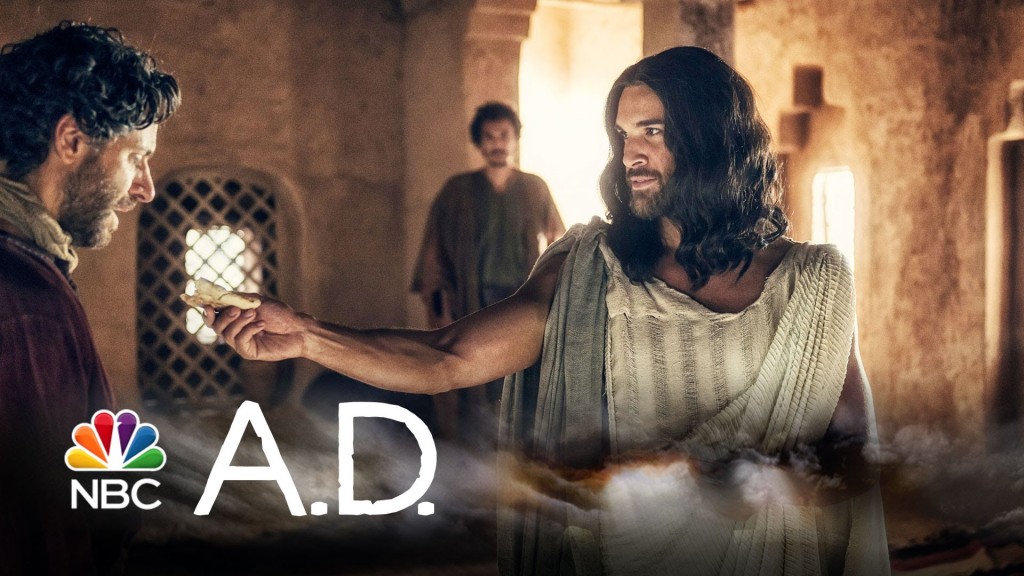 Finally a series of Biblical proportions. That would be A.D. The Bible Continues, the new 12-part miniseries from husband and wife power couple Roma Downey and Mark Burnett. Part One–depicting Christ's death and resurrection–premieres Sunday night on NBC and CTV.
The first hour is told at a brisk pace. Christ is condemned, crucified and entombed in just a couple of commercial breaks. If you find those bloated CinemaScope Bible epics from the '50s stiff and pokey, this is compelling and swift. The Bible essentials are all there and the storytelling, despite being so familiar, is quite engaging.
A few of the effects are a little over the top. An angel with a sword who appears from the sky and rolls back the stone in front of Christ's tomb is a bit too Game of Thrones meets Power Rangers. The actor who plays Christ, Juan Pablo Di Pace, just reminds me of that lyric from the Odds' Someone Who's Cool: "Close but kind of meatless…" More charismatic and flesh and blood are Adam Levy (Peter), Richard Coyle (Caiaphas) and Vincent Regan (Pontius Pilate).
I was surprised the apostles were eliminated after being put through a series of physical endurance tests and then voted off, one by one, at a tribal council. I'm joking but Burnett will someday figure out a way to make that happen.
I interviewed Burnett and Downey earlier this week, speaking with them on the phone. When you get placed on hold for Burnett, this is what you hear on the line from his office: "Money-money-money-money."
Stay on the line and besides the theme from Burnett's The Apprentice, the themes from Survivor and The Voice follow.
When the couple finally did come on the line, Burnett and Downey agreed it might be time to change the office phone jingle to something more appropriate, say, a hymn. Then again, the title of that funky Apprentice theme, "For the Love of Money"—a hit for The O'Jays in the '70s—is based on a Bible verse: "For the love of money is the root of all evil (1 Timothy 6:10)."
Downey said one of the goals of this Modern Testament retelling was to help todays audiences understand "the danger and the drama of the times. It's a little bit like the thriller element of 'House of Cards,'" she said, "with all the political struggles and maneuvering that are going on behind the scenes."
For more on Downey, Burnett and A.D., follow this link to the feature I wrote this week for The Canadian Press.