Take it from Colm Feore: classically-trained actors make the best super villains.
Feore, who drew raves for headlining as King Lear last season at Stratford, guest stars Monday night as future Batman villain The Dollmaker on Gotham (8 p.m. ET on CTV and Fox).
This is Feore's second appearance on the series as Dr. Dulmacher. The maniacal MD eventually turns into The Dollmaker, sewing monsters together like an over-caffeinated Dr. Frankenstein.
When I spoke with Feore on the phone from his home in Stratford last week, I asked him how one goes from Shakespeare to super villains. He pointed to Anthony Hopkins–so effective in "Silence of the Lambs"–as an example of how classically-trained actors have an extra gear when it comes to a "raised sense of drama."
Put another way, Feore offered this super hero acting tip:
"You gotta say dumb things heroically."
Feore points out that TV series work doesn't provide "the luxury of great rehearsal periods, They need it done by lunch." Most of his scenes are opposite Jada Pinkett Smith. "I was very blessed," says Feore.
The actor played another deranged doctor who replaced faces in the 1997 feature "Face/Off" so he says "it's not for nothing" he was cast as The Dollmaker.
"I was a-head of my time," says Feore, so shameless with puns he could be a TV critic. The character is also "elegant, maleficent and articulate." He also wants to be God, so, really, not that different from King Lear.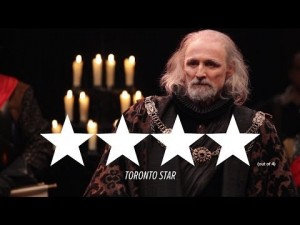 Forget about switching faces; Feore is also hilariously self-effacing. "I look like every period picture in every museum," he insists, alluding to his role as a crusading cardinal in the historical drama The Borgias. "Comb the three or four hairs I have left forward and you have Julius Caesar."
He says friends called him after a recent PBS "Story of English" airing when a 17th century etching bore an uncanny likeness to his own mug. "It was my face," Feore laments.
Feore admits that, like me, he's old enough to have experienced as a youngster the original Batman series of the '60s.  He loved it, and it wasn't until he was much older that he realized it was "as camp as a row of tents."
"Those were great actors," he says of the original villains, singing out Frank Gorshin's The Joker as a favourite.
He had a toy Batmobile and one of his fondest childhood memories, growing up in Windsor, Ont., was crossing the border with his family to see the actual Batmobile at a Cobo Hall auto show in Detroit, Mich.
Feore says he'd be happy to return as The Dollmaker anytime the producers would have him. The series has already been renewed for next season. Not that he needs the work: Counting Gotham, Feore already has eight IMDb credits for 2015, including "Sophie" co-starring Amanda Plummer.
If he could have his own super power? "I've always been keen on the flight thing," he says. "Not too high–I just want to float over, enjoy the view."