According to the overnights, 13.76 million Americans watched David Letterman say goodbye to The Late Show Wednesday night, his biggest CBS audience since 1994.
If you watched in Toronto or Brampton on Rogers Cable, you lost the signal around the 12:37 mark. The Late Show ran 17 minutes later, a situation anyone with a Twitter account was aware of, but apparently the memo never got to Rogers. I was watching on Channel 16 when the picture suddenly switched from the OMNI simulcast to the originating CBS feed. Thirty seconds later, up popped one of those cheap-ass Comedy Now recyclables from CTV Two.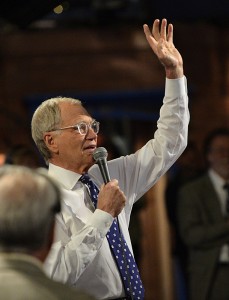 Letterman is summing up 33 years, pouring his heart out about his staff, and this screw up happens. Letterman used to joke that they don't give these jobs to chimps, but I'm not sure that policy holds at the cable company.
The thing was cleared up in about a minute. All we really missed was a big thank you to Leslie Moonves. Things switched back in time, thank goodness, for Dave to introduce his wife Regina and son Harry, sitting in the theatre. It was startling to finally see Harry, so young and cute, the Golden Child kept safely out of sight until Wednesday night.
Other highlights from show 6028:
The cold opening with the presidents was impressive but needed a topper–maybe Letterman seeking a reprieve from Dick Cheney. Alan Kalter's, "And now a boy from a small town in Indiana…" was sweet. There was one last dash across the stage.
Dave vamping during the applause, showing off the lining of his jacket while Paul Shaffer played "A Pretty Girl is Like a Melody"–that's the stuff I'll miss the most.
There were good zingers in the last monologue. "It's beginning to look like I'm not going to get the Tonight Show," Dave cracked. Classic.
The animated Simpsons gag was a lovely touch. Ditto the Wheel of Fortune puzzle joke.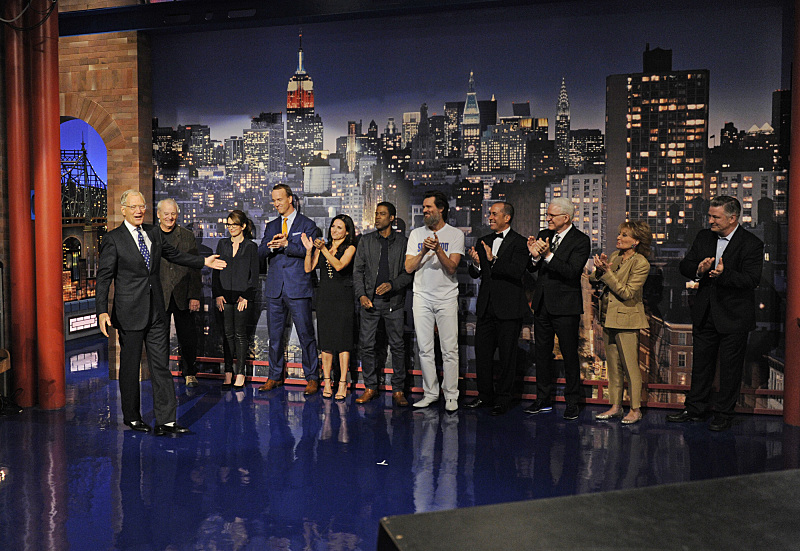 Letterman worked in a nice shout out to his successor, Stephen Colbert. The "Conversations with Kids" clip was fun, although it stings that no one else on television will every intro something like that again and reference Art Linkletter.
The most showy part was the All-Star Top-10 List, read by a murder's row of elite Late Show guests. The category was "Top 10 Things I've Always Wanted to Say to Dave." There was a golden opportunity for Jay Leno to walk out and say, for No. 1, "I'm sorry."
Letterman seemed way more chuffed that Payton Manning showed than anyone else. Alec Baldwin, Barbara Walters, Steve Martin, Jerry Seinfeld all had to be there. Jim Carrey, who looks like he's rooming these days with Randy Quaid, killed his self-mocking "I've always found you to be a bit of an over-actor" gag. Chris Rock's zinger about being "glad your show is being given to another white guy" line was another home run.
Julia Louis-Dreyfus got the biggest laugh with, "Thanks for letting me take part in another hugely disappointing series finale." Jerry's reaction: priceless. Tina Fey also scored with "Thanks for finally proving men can be funny."
Bill Murray had the capper and squandered it, but after, when Letterman went through the crowd and thanked each one, his exchange with Murray was gold. "I saw you on TV last night, are you alright? " he asked his old friend. Dammit Letterman, stop making this so hard.
I got a big kick out of the Zsa Zsa/Taco Bell clip, one of my all time faves. That week Letterman brought the show to Hollywood was one of the best string of Late Shows' ever. There was a peek behind the scenes, a few minutes of Dave coming to work, goofing around with the producers and writers, getting prepped. I could watch that as a series.
I kept waiting for that segment with the viewers and by the time it came Rogers was there to help convince all of us it is time to cut the cord. Letterman remained true to his ballsy self, telling the audience to "save a little for my funeral." He praised the guy who hired him at CBS, Howard Stringer. He went on about the theatre, how it had been transformed from a rat trap to a comedy cathedral. "What a wonderful place to do a show; what tremendous music this place has housed."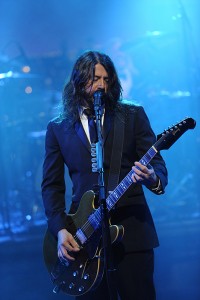 Letterman thanked everyone in the crowded booth and asked them to stop drinking. He thanked the writers and gave them more credit for the show then he felt he himself deserved. He thanked every member of the band. He managed to give shout outs to Biff Henderson and many other staffers, some with him since the very beginning. He thanked his mother.
Then, suddenly, the wrap up. "All right. That's pretty much all I got. For the last time on a television program, thank you, and good night."
Ever the pro, he signed out without a tear and handed his show over to The Foo Fighters. They rocked out the last five minutes as the clips rained down, glimpses of 33 years of treasured memories. Among the last images: home movies of Harry learning to ski. Life after Late Show. Left behind are a world full of stupid pets and people who will never know their cuts of meat.
Still, as Dave would say, he's not dead. Long may he ski.