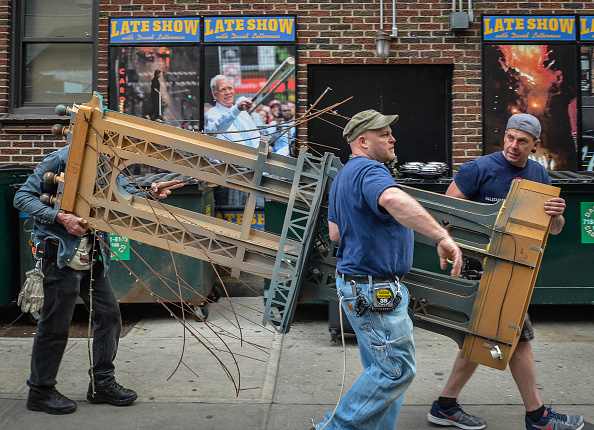 What Late Show with David Letterman fan wouldn't have paid big bucks to own a piece of the show's set?
Always coveted one of the bridges in the background? Would you have made room for a chair from the Ed Sullivan Theatre in your TV room?
Too late, Topo Gigio breath. Demolition crews tore the place apart like a failed CW pilot Thursday in mid town Manhattan, just one day after the late night host ended his 33-year run.
Read this report in the New York Post.
Deadline reports some pieces–a large bridge, Letterman's desk, Paul Shaffer's band podium–were more carefully dismantled. Letterman and Shaffer are said to have requested items. Other items apparently went to museums. Hopefully somebody saved the microphone on Dave's desk, that is iconic.
Still, plenty appears to have been simply trashed and thrown into dumpsters on 53rd Street, including many seats from the theatre. A few fans reached in and grabbed a piece of TV history. Keep a CBS Eye out on eBay!
If this was the plan all along, why didn't Dave and Biff start tossing pieces of the set off the roof into dumpsters weeks ago? Bill Murray would have been so into that.
The marquee is supposed to come down next week. Give me 10 hours, I'll be there with a truck.
The clear out is to make room for Stephen Colbert's new Late Show set. Sheesh, the show doesn't start till September.
Here is a link to executive producer Rob Burnett's take on the gutting of the theatre Thursday: