There's a ton of Letterman chatter on this week's radio chat with AM900 CHML's Scott Thompson. Scott asks how I'd like to see it all end and I repeat my vision for the finale:
Paul McCartney and Ringo return to the Ed Sullivan Theatre one last time and play "The End." Dave walks off into the sunset with Madonna.
I also repeat my suggestion for every other late night talk show that night: have your band play Paul Shaffer's "Late Show" theme.
We talk a bit about Don Rickles appearance this week. First you notice he looks older than God. (He's 89.) Then you are amazed his mind is still hurling daggers.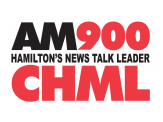 Would that me and Scott had as much on the ball. The interview rambles on for close to 20 minutes. We also talk about the end of American Idol. There's also my reaction to the Hydro One yahoo getting canned for his abusive and sexist remarks to a CityNews reporter. As Nelson would say, "Ha-Ha!" Well played, Shauna Hunt. Listen to Part 1 here and the second half here.