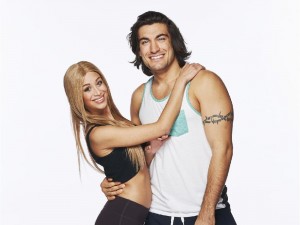 The Amazing Race Canada sprinted back to television with an overnight, estimated audience of 2.03 million viewers for Wednesday's Season Three premiere.
CTV claims that makes it the most-watched premiere of any series this summer and the No. 1 Canadian premiere of the 2014-15 season.
Viewers saw the 12 new teams take off from Quebec City en route to Toronto. Next week teams will fly to this season's first foreign destination, Santiago, Chile. Hola!
SPOILER ALERT: as if the photo didn't give it away, eliminated Wednesday night were Max Altamuro and Elias Theodorou. Elias, the beefy mixed martial arts fighter, was the cocky one prior to the race. The team already had T-shirts and a web site. He was brought down to earth after stumbling through 23 attempts to read a TelePrompTer at the TSN sports desk. Max was elfin and hilarious but probably not up to that much more running anyway. Look for them soon on Big Brother Canada, sez me.
Still very much in the race are Hamilton Elliott and fiancee Michaelia Drever. These two East Coasters are cute as buttons and Hamilton's making history as the first ever Trans Amazing Race contender. Read more about them here in this feature I wrote for The Toronto Star.