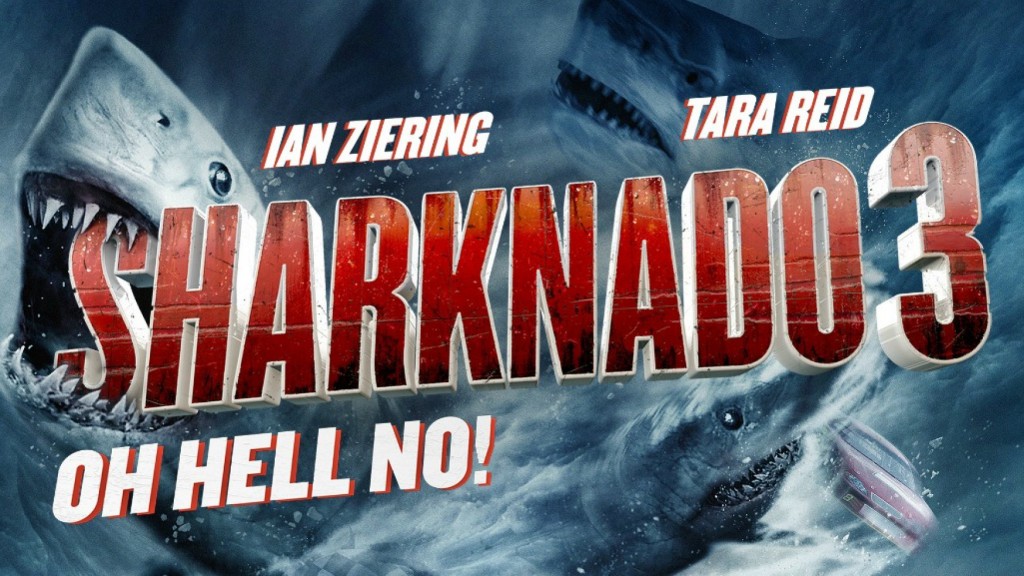 I haven't seen Sharknado 3: Oh Hell No!, but I bet it is awesome! It premieres Wednesday at 9 p.m. on Space and Syfy.
Back are the usual heroes: Ian Ziering, Tara Reid and Cassie Scerbo. A Who's Who of Hollywood Has-Beens has signed up for this second sequel, including David Hasselhoff, Bo Derek and Lou Ferrigno.
This is the movie franchise that is single-handedly keeping the annual Hollywood Show autograph market relevant.
The sharks attack Washington, and Shark Tank shark Mark Cuban plays the U.S. president. Does Canadian shark Kevin O'Leary appear? Ratings in Canada would spike. Who doesn't want to see O'Leary wind up as shark bait?
Ann Coulter appears as the vice president. See sharks refuse to bite into her! Way too toxic!!
Had Trump been cast sharks could have leapt out of his hair. He could have been spat out in the Gulf of Mexico. Next year!
The movie is crammed with people you'd like to see get jawed on: Michele Bachmann, Jerry Springer, Holly Madison, Kathie Lee Gifford, Hoda Kotb, Matt Lauer, Frankie Muniz, Robert Klien (returning as "The Mayor"), Michael Bolton, Anthony Weiner, Penn & Teller and Jackie Collins (as "herself").
Director Anthony C. Ferrante met critics last summer poolside at the Beverly Hilton during an outdoor screening. He told us then he couldn't keep up with requests from Z-list celebrities to grab face time in these movies.
He also said he hoped the next one would take place in Europe, but I think he was just trying to score a free trip to France.
Which brings us to the big question: why doesn't Space do Moosenado? Or Beaverpocalypse? Canadian networks are always piggybacking on Amazing Race this or Big Brother that. Get in on this act: it's tailor made for Canadian budgets, plus think of the cathartic effect it would have on viewers during an election year. Justin Trudeau: he's just not ready–as lunch! Canadian Tire could step in a sponsor just to show off new deals on chain saws. With what the Harper Conservatives are spending on election ads, they could make a thousand Sharknados. Okay, so now it just sounds like I'm endorsing all that money spent on election ads.
Still, tell me hundreds of big-eared beavers gnawing on Gian Ghomeshi's noggin wouldn't triple the Pan Am Games numbers. It writes itself. Call me, CBC.