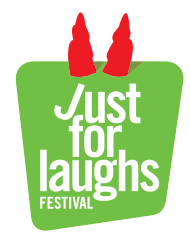 MONTREAL, P.Q.–It's been quite a few years since I last attended Just for Laughs. Twenty-five to be exact. It was so long ago they were honoring Milton Berle…but that's a whole other story.
For years, Montreal's annual comedy festival has clashed with the summer TCA press tour. It was an easy choice for me this year with access to so many comedy stars in a city where they still take Canadian money at par.
Wanda Sykes was just arriving at the festival's Hyatt Regency as I checked in. Dave Chappelle was spotted by the lobby bar. Mike Myers, Kevin Hart, Bill Burr, Neil Patrick Harris, Jane Lynch, Patrick Stewart (!), Chris Hardwick and upcoming Daily Show host Trevor Noah are among the headliners here this week.
Plus Patton Oswalt, Andy Kindler, Danny Bhoy, James Corden bandleader Reggie Watts, Weird Al Yankovic, Norm Macdonald, Howie Mandel, Rob Schneider, Alan Cumming, Eric Andre, Margaret Cho, JB Smoove, Tom Papa, Chris D'Elia, Pete Davidson, Shaun Majumder and Ellie Kemper. This place is stinkin' with comedians.
We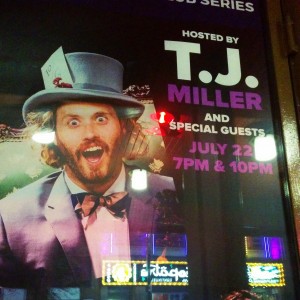 dnesday night, courtesy CTV, I headed over to Club Soda and caught a JFL: All Access Pass taping hosted by TJ Miller from Silicon Valley. (The rest of the cast from that show is here, too, along with creator Mike Judge). Miller toyed with the spotlight lady and deconstructed poutine for the locals, sampling the three main ingredients separately–fries, curds and ketchup. As he concluded, fries alone are really enough.
Also on the bill were Jon Dore, Moshe Kasher, Mae Martin, Pippa Evans, Levi MacDougall, Kurt Braunohler and Jamie Lee. Dore had, for me, the joke of the night: "It just occurred to me," he said, "I've never had an epiphany."
Special guest at the end was deadpan Brit Jimmy Carr, who tried out a binder of new jokes and asked the audience to assess if he crossed the line. The jokes were all just deliciously wrong, especially if you grew up in the Catholic school system.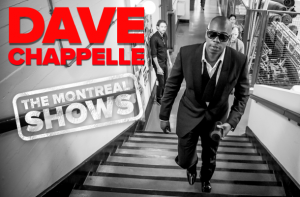 It isn't all just stand-up this summer at JFL. On July 24, director Jason Reitman will lead a live reading of "The Big Lebowski" with Michael Fassbinder as "The Dude" and Oswalt as Walter Sobchak.  Saturday, Armando Iannucci will be In Conversation with the man he's passing the Veep baton to: David Mandel.
Busy showrunner Bill Lawrence will be in the house Thursday for the Comedy Pro panel on Undateable. Conan O'Brien EP Jeff Ross hosts the Just For Laughs awards show.
All this and poutine. Go to hahaha.com for more information.