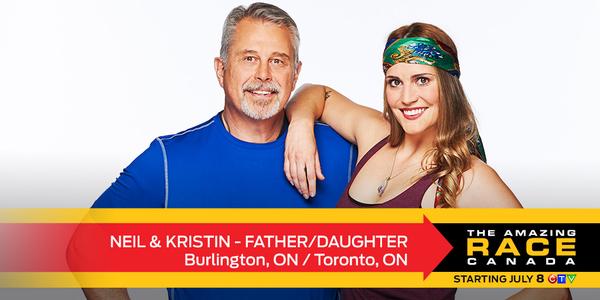 I take my hat off to Neil Lumsden. At 62, the CFL Hall of Famer is the oldest competitor in the third season of The Amazing Race Canada, which premieres Wednesday night at 8 p.m. ET on CTV.
I interviewed Lumsden and his tall teammate, daughter Kristin, before and during the race. I was fortunate to be embedded on the second and third leg of the TV competition, in locales to be revealed later.
Lumsden's knees were in remarkably fine shape for an ex-fullback/running back with three Grey Cup rings to his credit (four if you count his coaching days). The Race is a grind, however, putting competitors through 14- and 15-hour days as they schlep through airports and in and our of taxis on their way through check points and detours. Lumsden raided the ice machines of at least one hotel along the way as he sought to keep the swelling down and hislegs race ready.
Viewers will see Lumsden use his coaching smarts to his advantage during the competition. Age can be an advantage, although it can also be a disadvantage if you're not in shape as I found out while stumbling through the TARC Media competition.
Read more about the Lumsden's here at this article I wrote last week for The Canadian Press.