I finally figured out this fascination with awards show nomination announcements. It is catnip for talk radio stations.
Who did and didn't get nominated is the perfect conversation starter for radio hosts. Take Charles Adler, the popular Winnipeg-based host of AM680's CJOB, heard across Canada in syndication. Charles had me on his show Thursday to talk first about Caitlyn Jenner's ESPY speech and then to dissect the Emmy Awards nominations, released earlier in the day.
Had to agree with Adler that it is very hard to pick a winner in many of the categories. There are so many deserving winners in Best Drama, Best Comedy, Best Actor or Actress in either of those genres as well as in Miniseries and TV-Movies.
Look, as Adler urges, at these nominees for Lead Actress in a Limited Series or Movie:
Felicity Huffman, American Crime
Jessica Lange, American Horror Story
Queen Latifah, Bessie
Maggie Gyllenhaal, The Honorable Woman
Frances McDormand, Olive Kitteridge
Emma Thompson, Sweeney Todd: The Demon Barber Of Fleet Street
Hard to handicap that race. I'd like to see Jon Hamm finally win for Mad Men, but he's up against Bob Odenkirk, so surprisingly brilliant in Better Call Saul. Hamm had to live with getting award-blocked all those years thanks to Bryan Cranston. Now the guy from the sequel steals his statue? Better alert rehab to make his bed.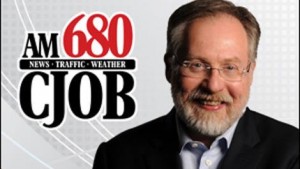 A fascinating race will be in the Best Variety category. John Oliver should win, he's brilliant on HBO's Last Week Tonight, fearlessly skewering the high and mighty like a surgeon. But how does David Letterman lose after 33 years in late night? And shouldn't Jon Stewart take home one last statue for elevating the late night conversation with The Daily Show?
You can listen to the entire Adler Radio report here. The Emmy Awards will be presented September 20 on Fox.