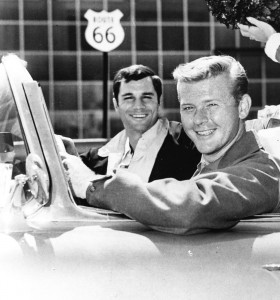 In 2012, when Route 66 was restored and released in a DVD box set from Shout Factory, I was offered an opportunity to interview George Maharis.
I was surprised. Maharis was the older of the two leads, the other being Martin Milner, who passed away Sept. 6 at his home in Calsbad, Calif. He was 83. Maharis is 87 and sounded spy and on the ball when I spoke with his three years ago.
Mahris basically drove himself off the series. The book on actor, who got buckets of fan mail, was that fame went to his head and that he became one headache too many on a difficult production. Route 66 was basically two guys in a cool car (an early '60s Corvette Stingray) motoring all over America. The 1960-'64 series was shot in a different city each week, crossing the border into Niagara Falls and Toronto even though those places were nowhere near the fabled highway the series was named after.
Maharis says he got sick (with Hepatitis) in season two and that led to him being written out of the series in season three.
He was still coy, all these years later, about how he got along with Milner–by all accounts an easy-going, pleasure to work with kind of guy. "I never had a disagreement with Marty–we got along," said Maharis, although he admitted the two were very different. "I was from the streets of New York. He was married with a family. He was polished, I was raw."
As Maharis pointed out, that's also the way it was on the series. "They talked about him being a college guy," said Maharis of Milner's character Tod.
Milner reportedly beat out a young Robert Redford for the part. (Redford eventually did a guest stint on the series, as did Martin Sheen and James Caan. Burt Reynolds also snuck into the background once.) He went on to star for seven seasons on Adam 12, this time behind the wheel of a cop car. Maharis never again enjoyed near the same level of fame.
Maharis said there had been a long search to find his Route 66 co-star. An actor who shot the original pilot, Bob Morris, died before the series was made. When Milner was eventually cast, he got top billing, noted Maharis, due to a much longer resume. Indeed, Milner was still a teenager when he played one of the kids in the William Powell classic "Life with Father" (1947).
The billing thing probably bugged Maharis, who couldn't resist mentioning Milner was told to lose 35 lbs for the role.
When Maharis' character Buz was written out of the series, he was replaced by Glen Corbett. Maharis felt that casting was a mistake. "In my view he was not opposite Marty–same guy." Viewers seemed to agree as the series ended after the fourth season.
Milner kept working, showing up on everything from MacGyver to Murder She Wrote in the '80s and '90s. His credits date way back almost to the dawn of commercial television, with appearances on The Loan Ranger, The Stu Irwin Show (1950-'51), Schlitz Playhouse and the original Dragnet. Rawhide, The Twilight Zone and Gidget are also on his lengthy IMDb list.
The Detroit native's last credit was on an episode of Diagnosis Murder in 1997. He was even in an episode of the Can-con classic The Littlest Hobo! The late, great TV Guide photographer, Gene Trindl, described Milner as a class act, all the endorsement any actor ever needed.
He is survived by his wife of 58 years, Judy, a son and a daughter and three grandchildren.