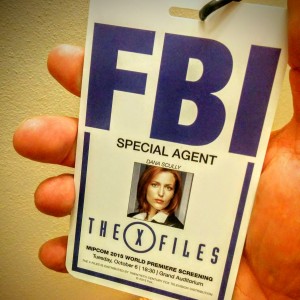 CANNES, France–Chris Carter was asked Tuesday night at the world premiere of The X-Files miniseries: How long will Gillian Anderson and David Duchovny keep coming back to playing Scully and Mulder? He answered without hesitation: "Until they're wheeled off the stage."
The creator and executive producer was the star attraction at the MIPCOM screening of the Fox series, which apparently still has not landed a Canadian broadcaster. Six new episodes were shot in Vancouver, with filming ending about a month ago.
Ushers dressed in FBI jackets guided patrons into the Palais' Grand Auditorium. Everyone attending got FBI badges with Scully's special agent photo ID.
Carter says the six new episodes took eight months to produce (including, writing and prep). He considers this the 10th season, and it is set 13 years after the last series episode aired. SPOILER ALERT: unlike the happily ever after ending of the 2nd and most recent movie, 2008's "The X-Files: I Want to Believe." Mulder and Scully are splitsville. The big surprise is Community's Joel McHale as a Fox News-type TV-host who pulls the pair into a new adventure.
The opening credits with that creepy alien score remain pretty much the same because Carter felt at this point, "it would be sacrilege to change it." Altogether, he said, working on the series has taken up a third of his life. Carter says he was in his thirties when he started and his then grey-ish hair is now snow white.
If there is a life to the series beyond these six episodes he hopes it will continue to live in short, limited seasons like this one. Besides the two leads, he was thrilled to have original writers Glen Morgan and James Wong back contributing to the miniseries.
Original series star Mitch Peleghi is also back as is another key character from the past. Carter was hoping to avoid spoilers but suggested one or two others will turn up in the new six.
The Q&A session afterwards included the usual reverential fawning, including one woman who told Carter "the proof is out there" and that she had something powerful secret to share. Carter graciously agreed to see her proof, leading, no doubt, to a story idea for some future revival.