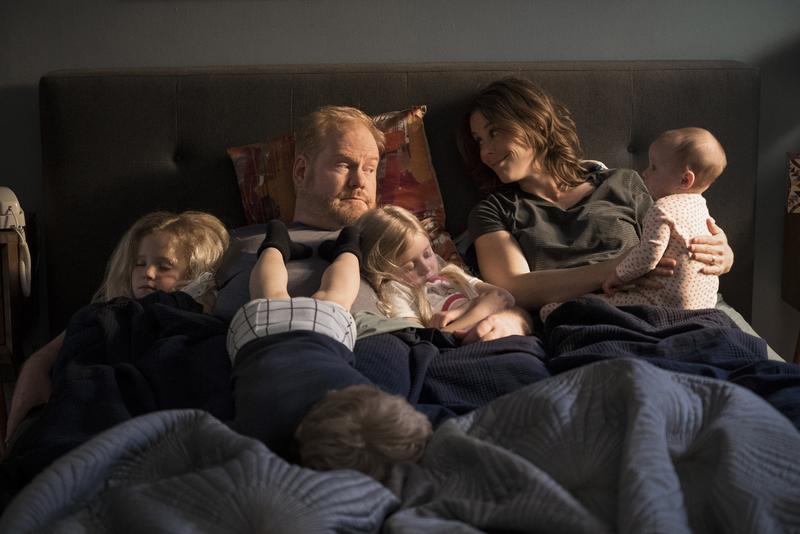 Jim Gaffigan says he's proud to be doing the TV show he wants to do, which must be why he named it The Jim Gaffigan Show. The one-camera comedy stars Gaffigan as Gaffigan, a stand-up comedian who lives in New York with his wife and five children. Aside from the pilot (premiering Tuesday night at 10:30 p.m. ET on The Comedy Network), which was co-written with Peter Tolan (Rescue Me, The Larry Sanders Show), the scripts are all by Gaffigan and his real-life wife Jeannie. (Ashley Williams plays his wife on the series.) They're already breaking stories on the 10 second season episodes ordered by TV Land.
It took Gaffigan three years and three networks, however, to get his series on the air. Read more about that in this feature I wrote which appeared in Monday's Toronto Star.
Jim and Jeannie really do have five children. The tots in the series are adorable, yet Gaffigan manages to goof on big families without making it all seem cloying or too cute.
There's a tendency to see The Jim Gaffigan Show as Louie-Lite. Both Gaffigan and Louie CK base their shows on themselves to a certain extent; both are about stand-up comedians living and working in the Big Apple.  Both are also hands-on producers, doing the show they want to do.
Which is pretty much where the comparisons end. Gaffigan's show is much more family-friendly, right at home on and in TV Land. The pilot episode, where he ponders getting a vasectomy, could have happened on any sitcom 30 or 40 years ago. You can't often say that about Louie.
The lines are funny (He: "Shouldn't there be some mystery?" She: "Half the things you do are a mystery to me") and relate-able. Gaffigan pokes fun at things like the Catholic church without taking the usual cheap shots. The only one who really gets mocked on Gaffigan is Gaffigan.
Look for plenty of guest stars, including Fred Armisen in the first episode and, later on in the series, Chris Rock, Jimmy Fallon and Alec Baldwin.