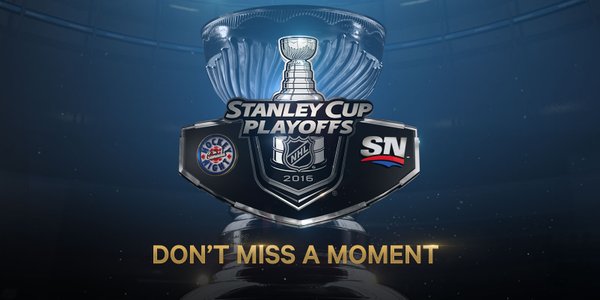 He shoots he bleeds.
Rogers was expected to take a beating in the ratings with Canada shut out of the playoffs. The numbers are starting to come in, and they're at historic lows.
On opening night, last Wed., April 13, Detroit v. Tampa Bay drew 618,000 on CBC. The Rangers v. Pittsburgh did 510,000 on Sportsnet and the Blackhawks v. St. Louis scored 271,000. (All overnight estimates, 2+ across Canada.)
Put a one on front of any of those numbers and you'd say Rogers was about on target for Round 1 games featuring American teams. If Canadiens or Canucks were involved, add two million viewers per game.
Subtract all the Canadian teams and what you have left are decent numbers–for NBA playoff games.
Thursday, April 14: CBC did 742,000 with Philly facing off against Washington. Another 477,000 hung in for the late game between San Jose and the Kings. Islanders v. Florida did 445,000 on Sportsnet.
Friday, April 15: 574,000 CBC viewers watched Game 2 between Detroit and Tampa Bay. Chicago/St. Louis drew 592,00 the same night on Sportsnet. A mere 105,000 watched Islanders/Florida on Sportsnet 360.
On Saturday, April 16–traditionally "Hockey Night"–CBC did 962,000 with the game between Philly and Washington. Another 567,000 tuned in to see NYR and the Penguins in an afternoon tilt. The late game on CBC drew a relatively robust 822,000 for Los Angeles v. San Jose. Another afternoon match between Minny and Dallas drew 341,000 on Sportsnet. The same day, the Raptors opened their NBA playoff run with close to half-a-million overnight viewers on Sportsnet crowded schedule.
Squeezed into the mix: The Toronto Blue Jays batted 846,000 overnight, estimated viewers v. Boston.
Sunday April 17, CBC saw 711,000 tune in for Game 3 between Tampa Bay and Detroit. On Sportsnet Sunday it went St. Louie/Chicago 382,000, Florida/NYI 492,000 and Nashville/Anaheim 344,000.
That no series will likely average a million viewers in the opening round of the NHL playoffs probably hasn't happened since ratings began getting counted with meters.
It's important to note that missing from these overnight, estimated TV tallies are whatever Rogers gains from direct streaming on Sportsnet NOW and NHL GameCentre LIVE. And as low as these Stanley Cup playoff numbers are, they still tower over the nickles and dimes being registered on TSN.
Still, CBC probably thought all those promo spots for Jonny Harris' stand-up summer series would be playing to twice as many viewers by now.