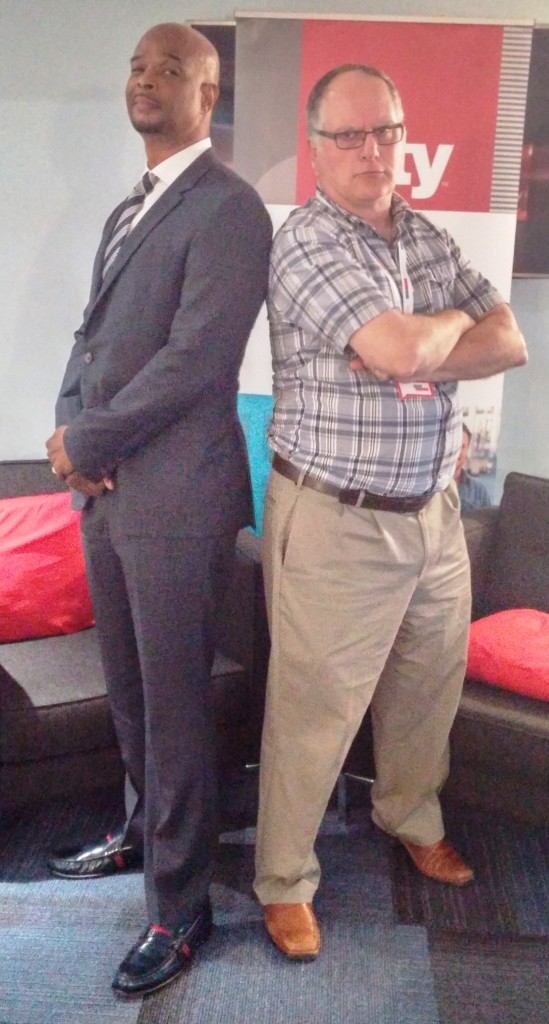 Day One of the Upfront Canada Week began Monday in the spacious press room known as the Rogers Centre.
Rogers Media made smart use of the ballpark Ted picked up for Uber money. Reporters were escorted into a breakfast nook with a cool view of the baseball field below, where workers were hoisting Ferris wheels, a staging area and other distractions for the hundreds of advertising cats due that evening.
Up in the booth, a modest breakfast was put out for scribes who fought their way downtown for the 9 a.m. start. There was an egg concoction that only a chicken could love. The banana bread scored about a B.
Five Rogers execs then said a few words. President Rick Brace began his brief comments by drawing attention to Rogers' "wide body of assets." Now, some of us would downplay this feature–I try to hide mine behind a large sports jacket. Brace, however, is just fine with his, and why not. In the less than a year since he took over as boss, Brace has shepherded through some tremendous growth at the media conglomerate, including the $100M deal to build a broadcast playpen for Vice Canada. [FULL DISCLOSURE: my son Dan Brioux works at Vice. Really, twelve thirty-six?].
Brace is always the coolest dude in the room. He looks like the Bill Davis 3000–the man just has CEO written all over him.
The top guy worked the room like Sammy setting up Sinatra. Next up was Colette Watson, VP, TV and Broadcast Operations. Watson came back from the Hollywood screenings with a bag full of new shows, including the new TV version of the movie franchise "Lethal Weapon," the new version of "24" and the new version of "Prison Break."
Fred Allen said it 60 years ago but it has never been more true than it is this coming season: "Imitation is the sincerest form of television."
Watson claims Rogers nabbed three of the Top-5 new shows for fall. What does that say about the other shows she bought? Does a mother love one child more than another? This will get confusing Wednesday when CTV says they bought seven of the Top-5, or Thursday when Global says they still have NCIS and Survivor.
Scott Moore spoke next. "Sports is about winning," said Rogers' NHL and Sportsnet boss, who pointed out the Blue Jays are way up over last year at this time, scoring 10 one million-plus TV games vs. just one the year previous. He also pointed out that Sportsnet vaulted over not just TSN but also CBC to become Canada's third most-watched network over the past 12 months, behind only CTV and Global. "Imagine ESPN beating Fox and CBS," said Moore.
That is impressive. I had to chase Moore down later, however, to talk about The Leafs and the NHL deal and the Stanley Cup playoffs. He tried to distract me with the news that Don Cherry has agreed to at least one more season of Hockey Night in Canada. Hey, a scoop is a scoop.
Rogers top ad sales guy, Al Dark, spoke about their new "audience intelligence product." This is apparently some sort of new fangled super ratings gizmo. I followed up with him afterwards but ow, my head still hurts from trying to figure it out. I think it is a box with little men inside that sneaks into people's houses at night and whispers, "Watch City!" and "Buy Fords," at people at night.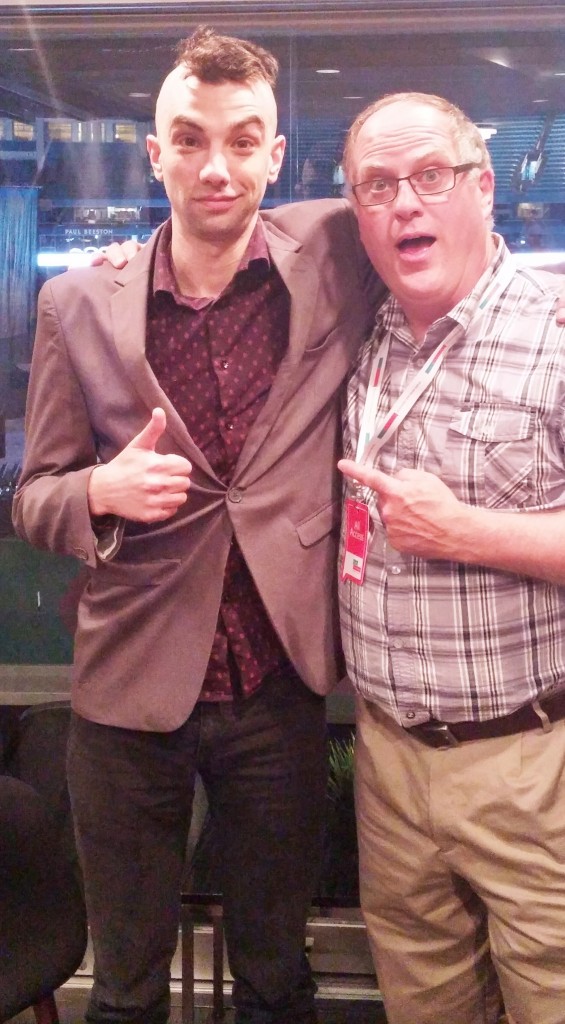 Also spoke with friendly Hayden Mindell, VP of TV programming. Hayden was high on a couple of new comedies Rogers picked up, including the half-animated Son of Zorn and Making History. He also thinks the remake of The Rocky Horror Picture Show will be an event winner. The musical just finished shooting at Toronto's Casa Loma.
The exec breakie was followed by interviews with talent from shows new and old. Damon Wayans stars in the remake of "Lethal Weapon," stepping into Danny Glover's shoes. Wayans looks crazy young, hasn't aged a day since his last series. The 55-year old has seven grand children! I asked him what his old reviewer character from In Living Color would give the new Lethal Weapon and hie said, "twenty-two snaps up and a big wet kiss!"
It was fun catching up with Jay Baruchel, who will be back shooting a third season of one of my favourite comedies on TV, Man Seeking Women. The 'toon-like FXX gem makes full use of Baruchel's physical comedy talents. He's also finishing up editing all those effects into "Goon 2," hopefully in theatres this fall.
Hardly recognized Will Forte without half his beard. The star and creator of The Last Man on Earth gets to do a third season of his series, too, another favourite on my list. Forte was just starting to grow his hair back after shaving half and then all of his head this past season–including his eyebrows.
Adam Pally was also ensconced in one of the cool Rogers Centre skyboxes that were doubling as interview spaces. Pally is from New York and cheers for the Mets and was darn sheepish about it. He killed opposite Elisha Cuthbert on Happy Endings, a series that should still be on the air. Pally returns this fall in Making History, which looks like a cross between Hot Tub Time Machine and Sleepy Hollow.
Rogers multi-platform PR team spaced things out well and the WiFi and sandwiches were both in abundance. There were even sandwiches left over after Tony Wong left the building! Upfront rating: four-and-a-half snaps.