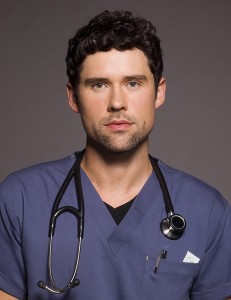 Canadian Benjamin Hollingsworth returns Wednesday night  as young resident Mario Savetti in the second season premiere of the medical drama Code Black (CBS, CTV Two, 10 p.m. ET).
I spoke with him in Toronto at the last couple of CTV upfronts and found him friendly and impressive. Here's a snapshot of the 32-year-old actor:
He's from: Brockville, Ont., originally, but grew up in nearby Peterborough where his parents still reside. "It's always nice to go home. You never forget home; home is always going to be your rock."
Now lives: in Los Angeles with his wife Nila and their newborn son Hemmingway. [Yes, Hemmingway Hollingsworth. That will be a lot to get on the back of a sports jersey.]
Graduate of: The National Theatre School of Canada.
On Code Black: "The writers are genius; the whole creative team is really really smart. We try to create this really authentic experience that's a little bit different than other medical dramas out there."
On his co-stars: "I'm learning a lot just watching Marcia Gay Harden and Luis Guzman. They're very kind, generous, caring people. We've really created a family around them."
On television: "It's the way I unwind, like many people at the end of the night. Throw on some good TV where I get to dream and play, Really good TV transports you into a place where you're not worried about your own stresses or your own daily life."
Shows that take him out: Breaking Bad, Game of Thrones, Bloodline, Veep. "There's nothing better than Veep."
On his Code Black co-stars who are also on Veep: "I've worked with Gary Cole on a movie called "The Jones" and Kevin Dune's on our show as well. It's fun to see those two go off in the off season, I bet they're having the time of their lives on that show."
Read more about Hollingsworth: here at this article I wrote for The Canadian Press.