Whew! Scrambled back across the border Thursday night before all hell breaks loose! Donald Trump's latest reality show "Impeached by America" begins Friday morning on all networks. The limited run series features the bombastic New York billionaire being sworn in as President of the United States.
There was no joking about this during the just-ended TCA winter press tour in Pasadena. The specter of Trump hung over the sessions like a bad stink, but few being interviewed took the bait. There were no Trump jokes from executive producer Tina Fey during NBC's session for Great News, a newsroom comedy starring John Michael Higgins, Nicole Richie and Andrea Martin.
Even provocative TCA veteran Dick Wolf held his tongue during his session for Chicago Justice. Wolf was asked whether or not a delayed episode of his series Law & Order: SVU that had a Trump story line would ever air.
"Guys, one response to this. I don't know when it's going to air," he said. The episode was written nine months ago. "I don't control scheduling of individual episodes," he added. Asked if he was nervous about producing such an episode, Wolf continued to dance around the question, repeating that scheduling is not his job. "I suspect it will be this spring, but I don't know." At the last minute, NBC yanked a planned session on SVU off the TCA schedule.
The "Big Three" networks at TCA went out of their way to avoid any Trump discussions, cancelling their executive sessions. NBC did not present a panel on the new Apprentice, although a fellow reporter claimed he saw Arnold Schwarzenegger in the hotel, perhaps working foreign press round tables in another part of the building.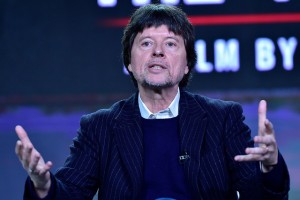 During PBS's press tour sessions, I asked Ken Burns if he was prepared for the new president to push back — perhaps on Twitter — against The VIetnam War. The 18-hour documentary won't likely make viewers think about a time when America was great. Burns and Lynn Novick have worked 10 years on the project, and could hardly have expected it to finally air at a time America was more divided than ever.
Burns was very diplomatic in his response. "We actually believe that this film has the opportunity to permit Americans to find, as we do all the time in public broadcasting, a place to come together and to begin to have courageous conversations about what happened. So rather than anticipate anything negative there will be that we actually anticipate an extraordinarily rewarding conversation."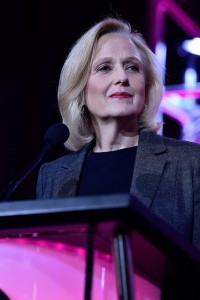 PBS president Paula Kerger joked that she lost a bet when Trump wasn't her first press tour question. Asked if she had any idea what to expect from the new administration, she said she'd been through other periods in public broadcasting where funding was at risk. She mentioned that only 15% of the funding for the Corporation for Public Broadcasting comes from the federal government. The total contributed works out to $1.35 per American per year, she says.
Kerger and her team and managers at PBS stations around the country expect to be talking with legislators in the coming weeks and months about the consequence of any reduction in federal funding to public broadcasting. "Stay tuned," said Kerger.