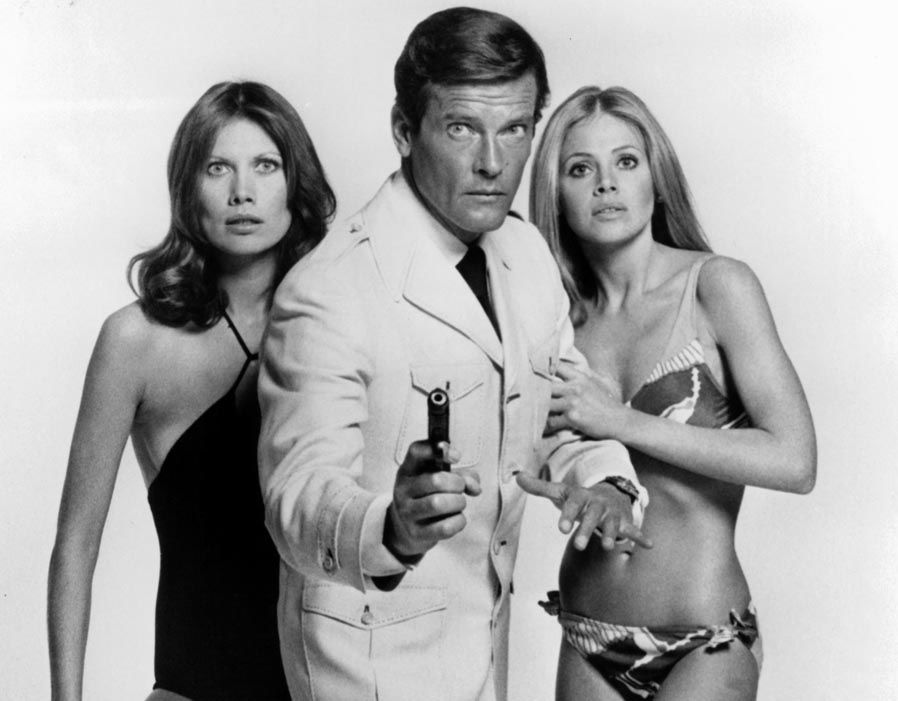 Roger Moore was the sitcom James Bond. He played opposite Tattoo from Fantasy Island (Herve Villechaize), Jaws (Richard Kiel), even the guy from the Cola-nut commercials (Geoffrey Holder). Still, his seven-picture Bond stint spanned two of the better Bond theme songs (McCartney and Wings' "Live and Let Die" and "Nobody Does it Better").
Moore died Tuesday in Switzerland; he was 89.
To my regret, I do not have a personal Moore story. I can't recall him ever being at a TCA press tour over the past 30 years.
His acting career began on television in the '50s. He enjoyed great success as a modern day Robin Hood on the British series The Saint (1962 – 69) and later teamed with Tony Curtis on The Persuaders.  By the time he became 007 in 1973, Moore was a movie star. Though he continued to appear on television (including Rowan & Martin's Laugh-In, many Tonight Show appearances as well as Dick Cavett, Merv Griffin, Mike Douglas and even The Muppet Show), he no longer worked the TV press beat.
He left behind, however, a legacy of hilariously self-deprecating quotes. Here are several comments attributed to the actor, may he rest in peace:
To me, the Bond situations are so ridiculous, so outrageous. I mean, this man is supposed to be a spy and yet, everybody knows he's a spy. Every bartender in the world offers him martinis that are shaken, not stirred. What kind of serious spy is recognized everywhere he goes? It's outrageous. So you have to treat the humor outrageously as well. My personality is entirely different than previous Bonds. I'm not that cold-blooded killer type. Which is why I play it mostly for laughs.

My acting range? Left eyebrow raised, right eyebrow raised.

If I kept all my bad notices, I'd need two houses.

I've never received a nomination for an Academy Award – and that after I went to the trouble of learning two more facial expressions.

It used to take them hours and hours in make-up to give me character. Now I've got the character, they take it all out.

I like Bond. But it's silly to take it seriously. It's just a great big comic strip.

[on A View to a Kill (1985)] I was only about four hundred years too old for the part.

I've not planned my funeral. I'm not the Queen. A procession through the streets of Stockwell would be nice, I suppose. But when I go, I'd just like everyone to say: "He lived longer than anyone I knew.".

[on why he took the role of James Bond] When I was a young actor at RADA, Noël Coward was in the audience one night. He said to me after the play, "Young man, with your devastating good looks and your disastrous lack of talent, you should take any job ever offered you. In the event that you're offered two jobs simultaneously, take the one that offers the most money." Here I am.

Sean (Sean Connery) is a good actor, it's a pity I can't understand what he's saying.

I've often been asked what I might like my epitaph to be. Well that's easy. I've no intention of going anywhere so won't need one!

UNICEF is the most rewarding thing I've ever done.

I loved Casino Royale (2006) and Daniel Craig. He is a wonderful actor, certainly the best actor to play Bond. I have never been guilty of method acting or even acting if you want to argue a point.

Bond is an enigmatic character. My only real clue to his personality was a line from one of the books, where he said that he didn't particularly enjoy killing people, but he took pride in doing it well. So that was how I played him.

[on seeing Daniel Craig in Casino Royale (2006)]I thought that he did more action in the first seven minutes than I did in seven movies!