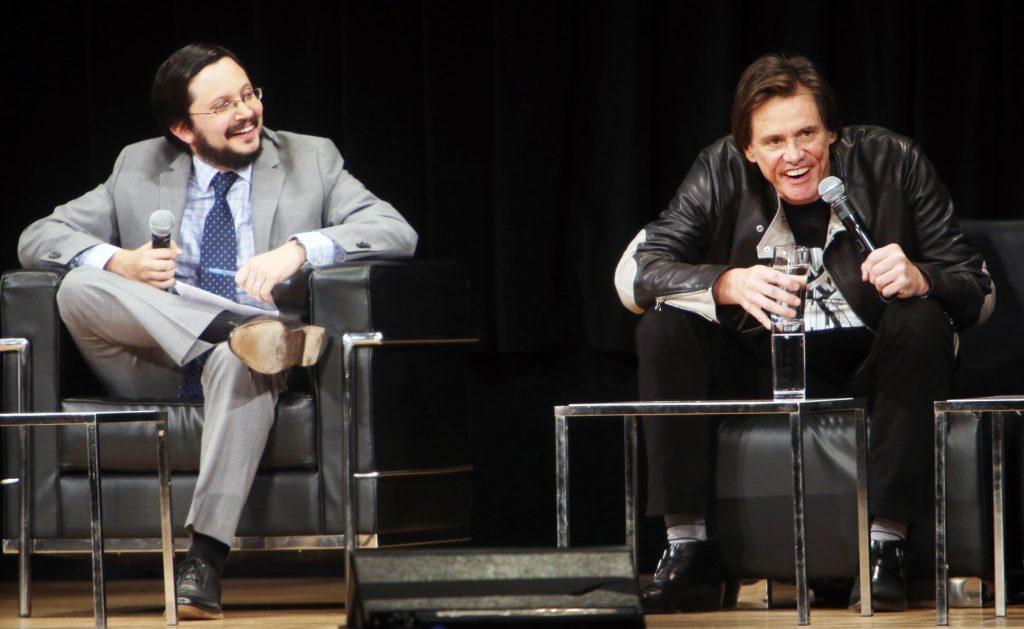 MONTREAL — "I truly am in an existential crisis. I don't believe in the character I'm selling. I don't believe I'm a person anymore."
That statement had a packed, Place des Arts audience leaning forward Thursday night towards the end of an extraordinary, 90-minute show panel at Just for Laughs.
The speaker was Jim Carrey, barely recognizable without his beard.
The massive, grey-whiskered tumbleweed Carrey had been sporting the past year or so always made him look more hobo than hipster. Clean shaven, he looked more like the old Jim Carrey, less like an old Jim Carrey.
The Newmarket, Ont., native is one of the executive producers behind Showtime's I'm Dying Up Here, a dramedy about a world Carrey knows well, the emergence of stand-up comedy as a launching pad to fame. The series is set in the early '70s, in the Watergate era, almost a decade before Carrey –then still in his teens — made his own pilgrimage down to the Comedy Store in LA and into the hearts and minds of millions.
He was joined on stage by several cast members of the series, introduced as they walked on by moderator Dave Itzkoff from the New York Times. They all screwed with Itzkoff, however, with nobody coming out when their name was called.
So when Itzkoff got around to calling Erik Griffin or one of the other players to the stage, out walked Carrey. Mis-named or not, he got a standing ovation from the adoring crowd.
Along with Carrey's beard went all his reserve. He was there to have fun and hang with his cast, but clearly he was also there to sell the idea of extending this series for a second season.
Carrey, 55, talked about being "a kid from Canada," when he first went down to LA. "It was a well-worn path by the time I did it.
"I didn't know what I wanted to be," he told Itzkoff and the crowd. "I just wanted to burst into a ball of light."
He explained that he came to Los Angeles "just hoping to create what we're all after, what we're still after, what these guys are after; to create an identity for yourself. To cobble together the ideas you have and all the things that you grew up with into a persona, something that makes people notice you and maybe even admire you."
Carrey told the harrowing story about his ill-fated first attempt to impress at Yuk Yuk's comedy club in Toronto. It was his first exposure to downtown Toronto "and the tragically hip people."
He was 15 at the time and the set was co-written by his dad. Much of his routine, he said, consisted of him imitating stars from The Carol Burnett Show. Mom picked out the polyester suit.
About five minutes into the set, the club started playing the soundtrack of Jesus Christ, Superstar, with the audience chanting "Crucify him! Crucify him! Crucify him!" Owner and frequent emcee Mark Breslin — who Carrey unfailingly credits for launching his career — grabbed a mike backstage and declared, "Totally boooring…"
"I was 15 years old," said Carrey, "and it crushed me pretty good."
It would be two full years before he would go up on stage at Yuk Yuk's again, and, as Carrey softly said, "kill it."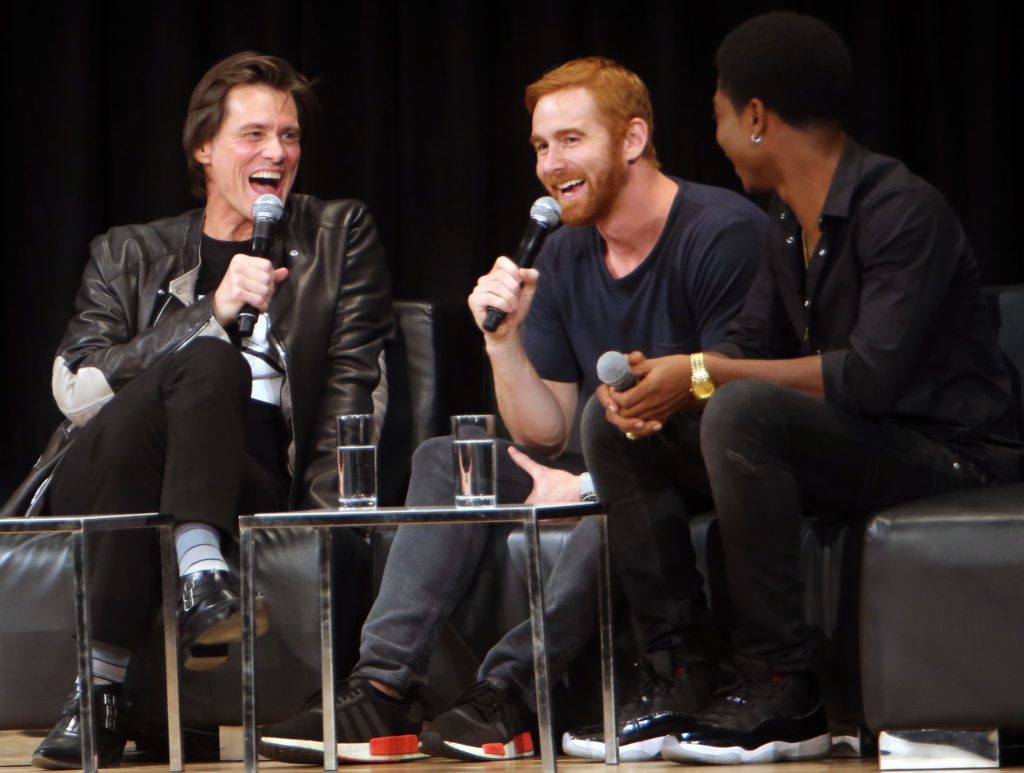 He went on to share stories about the notorious men's room cam at Yuk Yuk's. Breslin would watch a patron head to the lavatory and then refer the audience to a "secret camera" showing the back of some dude's head bobbing back and forth over some dude's crotch.
Carrey maintained his sharing mood throughout the session.  He talked about the first time he performed at a comedy club in Montreal when he was 17. The young lad was quite taken by the Quebec city's charms — so much so that cards and letters started appearing through the mail slot of the Toronto apartment he was sharing with his parents at the time, most of them with a strong whiff of perfume.
It was his personal "crisis" comments towards the end that lingered, however. He suggested he was in a similar place last January when I spoke with him outside the Ice House comedy club in Pasadena as part of the TCA winter press tour. He remarked then that he was "shedding skin" and in the process of re-inventing himself.
At the very end of the session, Itzkoff asked if this experience of helping to create an homage to modern stand-up had made Carrey want to get back in the game.
The comedian's first response was "Hell no" or words to that effect. Then he backed up, saying "You never know."
Then, however, he went on to explain why he probably won't, or can't, return to the stand up stage. He laid out his fears that he wasn't the "Allllrighty" guy all these years later, that he couldn't fake it, and that he wasn't even sure if he was a person anymore. It was an incredibly open and revealing moment.
Still, he seemed to have a lot of fun during the session, mugging his way through a few of his old facial gymnastics in performing stories. He was also quick to lavish praise on the cast, singling out Ari Graynor. She plays Cassie, the show's main "female comedian." Carrey says she holds her own in every scene opposite Oscar-winner Melissa Leo, who shines as comedy club owner Goldie (loosely based on Mitzi Shore).
Carrey's also been spotted supporting fellow comics at JFL35, dropping in on and heartily endorsing Jeff Ross and Dave Attell's midnight show Wednesday night. Ross said it was a thrill to have him in the house.
When the I'm Dying Up Here session was over, Carrey cheerfully shook hands with several people from the lip of the stage, posed for selfies and at one point lifted into the air a young lad who had hopped up toward him. He seemed really happy — perhaps open to the possibility that maybe he really still is a person after all.
The final three episodes of the season of I'm Dying Up Here play out over the next three Sundays on Showtime and The Movie Network.