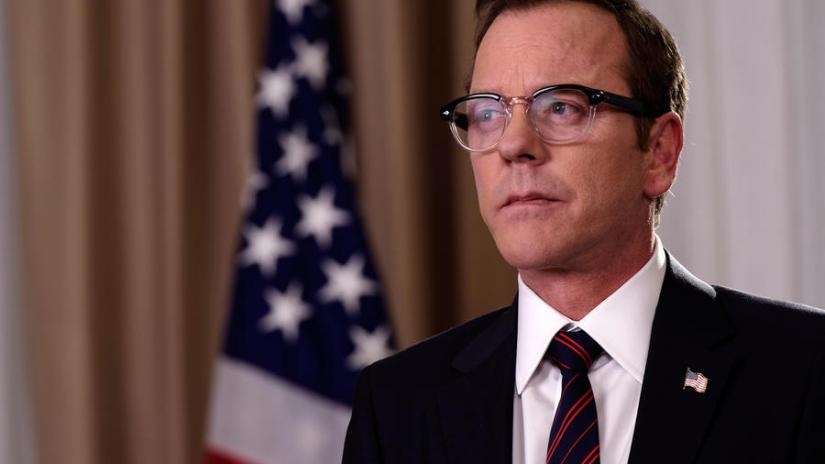 Tom Kirkman would never tell NFL players to stand for the national anthem.
At least, that's my hunch. I didn't get to check that with the man who plays president Kirkman on Designated Survivor, Kiefer Sutherland. I interviewed the Emmy-winning actor late last week, before Trump's latest howler.
Still, I'm pretty sure he'd agree.
"I don't believe you should be using headlines to make your television show, I believe that very strongly," says Sutherland.
Sometimes, says the 50-year-old actor, things just happen in real life after an episode is taped and it looks like the White House drama is cashing in.
"It takes us months and months to write something, film it and then put it out," says Sutherland, who is also an executive producer on the Toronto-lensed series. "Sometimes people think, 'Oh, they read that last week and then filmed this.' Things don't work like that. The truth is anything that we've written that kind of happened recently, that was just coincidence.
"Our show would not have changed if Hillary Clinton was elected or if Obama had tried to get a third term," he says.
Away from the set, Sutherland continues to perform as a singer and songwriter. "I finished our tour in Glasgow and was on the set in Toronto to start season two the next day," he says. An ol' pal of Bell Media boss and former Universal Music exec Randy Lennox, Sutherland confirmed he had discussions with CTV about shooting a behind the scenes documentary of the recording of his second album.
"You find the time for the things you love. I wasn't very good at golf anyway," he jokes.  He was better at hockey, but hasn't skated much lately. "I had to give up a few things," he says – a self-deprecating nod to his past as a Hollywood hell raiser.
Designated Survivor returns for a second season Wednesday night on CTV and ABC. Read more about Sutherland and the new season here at this feature I wrote for The Canadian Press.