It's been 54 years since Monty Hall first started asking people if they wanted what was behind Door No. 1, Door No. 2 or Door No. 3.
Unfortunately, he won't be giving us that option anymore. Hall died Saturday at his home in Beverly Hills, was 96.
I last spoke with the proud Winnipeg native and game show legend in February of 2013. A consultant on a revival of the series, he was happy to do a phoner to promote the 50th anniversary of Let's Make a Deal.
He told me selling the show to a U.S. network back in the early '60s was no easy task.
"First of all, there were only three networks," Hall pointed out. In those days, CBS did not air game shows, "so you were left with two customers."
Hall and business partner Stefan Hatos had been testing the concept at local functions and always got a great response.
"We took it to a knitting club in the valley once at eight in the morning," recalled Hall. "We took it to anybody we could get our hands on."
There were no real prizes at these early tests, just envelopes with words like "refrigerator" written on them. They used a rubber chicken as the booby prize or a "zonk." No matter where their game show idea played, "people went crazy over it."
Finally the duo pitched it to an ABC executive. The studio audience went wild. The executive passed.
"Sure, it's a good show today," he said, "but what are you going to do tomorrow?"
Another test was made at NBC, and another broadcast executive turned it down. Fortunately, the man's assistant loved the idea and commissioned a pilot, shot in April 1963.
Hall and Hatos waited. Finally, a daytime slot no one else wanted was offered. The series premiered on Jan. 2, 1964. It switched to ABC in 1968 and kept right on dealing till 1977. A revival, hosted by Wayne Brady, has been a daytime CBS staple since 2009.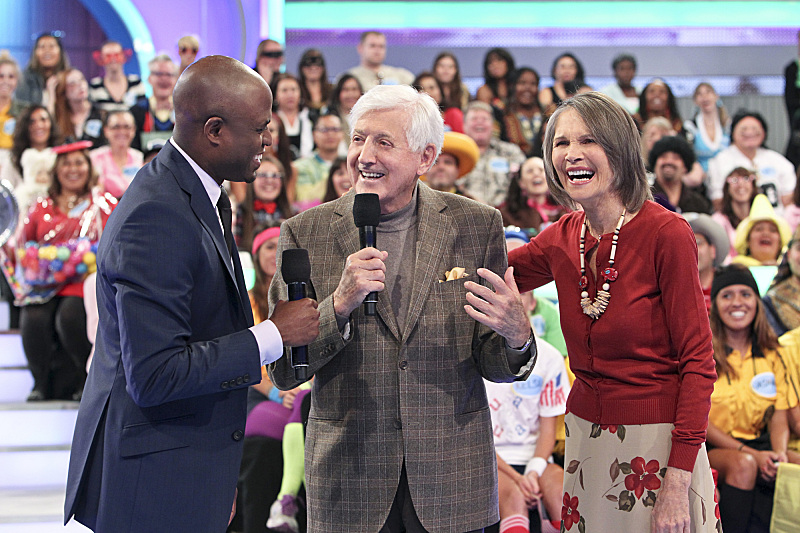 Hall calculated he hosted 4,700 episodes of the series. Many of the early shows are lost. Back in the '60s and '70s, long before game show specialty networks, producers saw little value in keeping bulky tapes which cost a fortune to store. A decision was made to dump many of the early tapes, however Hall calculates around 2,000 still exist.
"I kept the shows and I kept my wife," said Hall, who married his wife Marilyn in 1947. They were married for 70 years; she passed away last June.
A graduate of the University of Manitoba, Hall told me he made a point of returning to Winnipeg at least every other year.
"The number of relatives are diminishing but we all go out to dinner," he said. There's a street named after him there, Monty Hall Drive, as well as one in Palm Springs, where Hall was renowned for his charity work.
In 2013, he received a special Emmy Award for his lifetime in show business. Hall never won one back in the day but his wife, a producer, had one on their mantle.
"I can put my Emmy alongside her Emmy and they can have a bunch of little Emmys."
Hall told he was there in 1952 when television came to Canada. He hosted an hour-long magazine show called Matinee Party with Rosemary Boxer. "We had all kinds of guests," said Hall.  He also hosted a prime time series set in a night club.
By 1953, however, Hall found himself out of work. He was off the air through the 1954-55 season, too. "I knocked on a lot of doors, unsuccessfully, and that's when I decided to go to New York."
The Order of Canada recipient landed work at NBC radio and television, hosting something called Cowboy Theater in 1957.
I asked him if he was surprised at how audiences in 2013 still went completely nuts on the Let's Make a Deal set. He told me he wasn't surprised at all. Viewers may be more cynical and blase about television, he said, but they still love to win stuff.
"Do you remember the actress Rosalyn Russell?" he asked. "I was at a big dinner party one night, she was sitting next to me at my table. And during the evening the host brought out a big gondola festooned with prizes. These were very wealthy people sitting at a dinner. They started calling out numbers and the person would win a compact worth fifty dollars. And the screaming started with these rich people.
"As this is going on, Rosalyn Russell turns to me and says, 'And they make fun of your contestants?'"