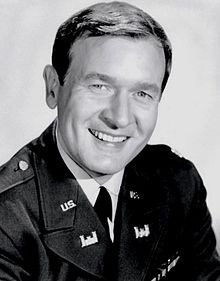 He had very fond memories of working with Larry Hagman on I Dream of Jeanne. Where Newhart was a perfectionist, Hagman was laid-back and full of fun. The two improvised much of their dialogue on the spot, and liquid refreshments were often shared on the set.
Daily felt that everyone was born with the happy gene, born to see the glass half full, and that life eventually drags a lot of us down. He claimed he willed himself to stay happy at an early age. Daily did have to contend with adversity early. His lasting memory of his father was of the old man leaving the house for a newspaper and never coming back. Daily himself was married three times, which can be a mood changer. Dyslexia was another challenge for the actor, throughout his schooling and especially when it came to learning lines.
If it looked like Roger Healey and Howard Borden were perpetually "up" people who were never in a bad mood, however, it was because they were played by Bill Daily. "I'm not that good of an actor," he told me. "I'm just likable."
Daily singled out comedian Shelley Berman as somebody who could make audiences happy but never himself.
"He did the telephone bit first," he said, comparing Berman to Newhart, "but he was such an ugly human being."
One might have expected Daily to have some bitterness. He starred in two of the most rerun TV shows ever, but both were made back before actors really cashed in on their contracts and on residuals. He told me he made around $750. a week doing The Bob Newhart Show.
"And we were grateful for it," he was quick to add. "You kidding? Oh my God. On with Newhart?"