In Canada, the annual television network "Upfronts" are a few weeks later than they are in the States. Our Upfronts are really "Uplaters."
They also don't draw anywhere near the same amount of advertising revenues. Canadian advertisers tend to commit less of their budgets in the spring, playing more of a wait and see game. Since 80% of the new shows fail every year, this seems like a pretty good plan.
CBC hosted their 2015-16 "Season Preview" last Thursday in Toronto. This week Rogers (City) goes Tuesday followed by Shaw (Global) Wednesday and Bell (CTV) Thursday.
CBC could have been excused for holding their session at a downtown Turner & Porter chapel. Last June at Upfront time, the public broadcaster had just lost its big revenue ticket, NHL hockey, to Rogers. A short time later came the Ghomeshi scandal, a non -consensual kick in the nuts.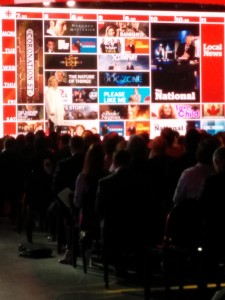 Instead, the broadcaster put on quite a show up in one of their cavernous 10th floor studios. I was standing at the back and the light show was ACC impressive. A script was flashed on giant screens at the back of the room as presenters such as Rick Mercer, Peter Mansbridge, Scott Russell, Jonny Harris, Will Sasso and others worked the room. Network president Heather Conway smiled more than last year and threw to programmer Sally Catto. Right down to the music cues and many video clips, it was all very positive and well rehearsed.
Communications chief Bonnie Brownlee insisted later it was all pulled together in house. Given the fact CBC still has over eight thousand employees, it should be.
Catto said she was thrilled to build on the success of Schitt's Creek, which gets more of a lift from Live+7 totals than any other CBC series. It seems to be one of those shows people PVR and watch later.
Conway said she feels she's right where she needs to be, Year Two of a Five Year Plan, and yes, last year was pure hell, thank you. There was much talk about all the new Friday night Arts programming, which does distinguish CBC from the other less-cultured broadcasters who just want viewers.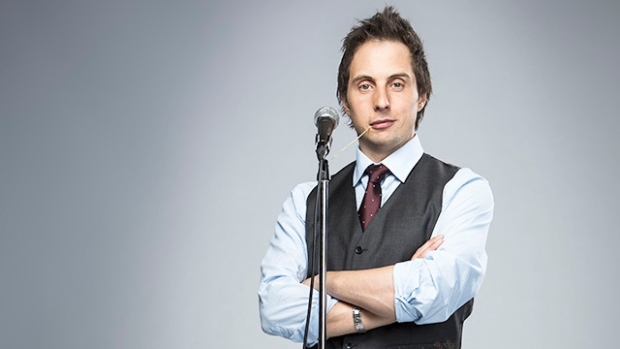 As for the talent: likable Harris sheds his Constable Crabtree uniform to play small towns across Canada this summer in Still Standing. The Newfoundland native and a crew camp out in various communities, getting a feel for the locals and then let them have it in a stage show at the end of the week.
Still Standing will air Tuesdays and Sunday nights this summer following Fool Canada, another half-hour comedy summer series. Vancouver native Will Sasso insists its not just another "hidden camera," Just Four Laughs Gags-style series. The former Mad-TV player sees it more as a chance to do streeter improv with average Canadians. Sasso says a lot of them sass him right back.
I also spoke after the presentation to Chris Haddock, who has a new drama this fall on CBC called The Romeo Section. Savvy Haddock had word the fish treats in the press room were not to be missed so we loaded our plates before talking. This kind of a move can only lead to great reviews for The Romeo Section.
He was just getting warmed up about Russia, and spies, and intelligence when the new Dragons' Den dude crashed our interview. The two bonded over their summer fedoras and then Dragon dude launched straight into a full-on pitch to get Haddock to do a series based on the dude's latest acquisition, Toronto's El Macambo. Sheesh, buddy, cool your dragon nostrils for one minute, can ya?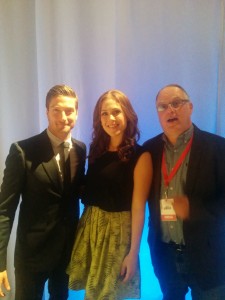 It was great to say hello again to Daniel Lissing and Erin Krakow, who star in the family-friendly B.C. based Super Channel drama When Calls the Heart. It's booked for a summer run on CBC Sundays following Heartland, which sounds like a perfect scheduling fit.
CBC's summer schedule is padded out with imports Please Like Me, a comedy starring young Aussie Josh Thomas, and Banished, set when the Brits booted all the no-goods out to Australia. Saturdays bring a rerun of The Book of Negroes and Love Child, another down under import. Does a schedule seem more Canadian when shows are imported from Australia instead of America?
The Romeo Section is schedule for fall, although Haddock says he hasn't even cast it yet. Also for fall is a Sunday night thingy called Keeping Canada Alive. It's about our health care system, and it is going to die on the table opposite The Walking Dead, Downton Abbey, everything on HBO and Netflix, etc, etc.
I spoke Thursday with Bruce McCulloch about Young Drunk Punk, his new comedy based on his own life growing up as a comedy nerd in the late-'70s and '80s in Calgary. McColloch is basically playing his dad in the series, which, like Mr. D, has one of those two-network windows between Rogers and CBC. Immediately after the press session, he was off to join his fellow Kids in the Hall players on their current tour of the U.S. and Canada. The live show audiences have been amazing, says McCulloch.
It was strange, however, to see him and Sasso in suits and ties; once so punk, they look like CBC network executives.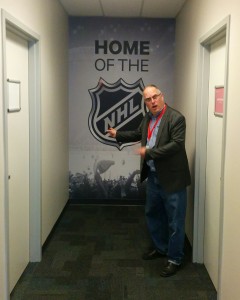 Little was made at the presentation of the fact CBC has all new shows Monday to Thursday this fall at 9 p.m. In America this would be called, "Giving Up." The new show for fall Mondays at 9 is called This Life. Based on a Radio-Canada hit, its about a terminally ill mother. Zut alors, pass the remote, although the cast is stellar–Torri Higginson, Lauren Lee Smith, Rick Roberts, Peter MacNeill, Janet Laine Green and others. Between that and Keeping Canada Alive, well, get Haddock to change his show to The Romeo C Section and call me in the morning.
CBC does have more in development, including Jekyll and Hyde, about the grandson of the notorious Dr. Jeykll. Set in the '30s, we find the new kid is a chip off the old shadowy block. It's not on until winter, 2016. Same with Hello Goodbye, a series set at Toronto's Pearson airport. Seems this is a place where a lot of people say hello and goodbye. This is a series? Look for Where's My Luggage? in 2016-17.