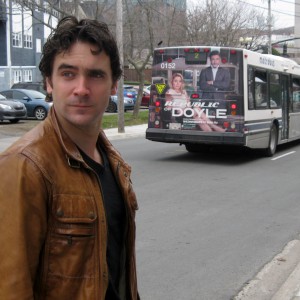 ST. JOHN'S, Nfld–You can't even cross the street in St. John's without a Republic of Doyle reminder. Even Allan Hawco finds he's confronting himself on the back of a bus.
Caught up with Hawco, who says he's spent just one or two nights in St. John's so far this year. He's just back from shooting CBC's The Book of Negros with Cuba Gooding, Jr., in South Africa. In April, he was performing a sold out run in The Company Theatre stage production "Belleville" in Toronto.
Republic of Doyle begins production on a sixth season at the beginning of June, with 10 new episodes airing this fall.