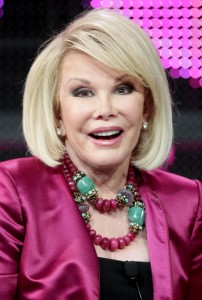 I was speaking with Late Night host Seth Meyers Wednesday about several things, including his upcoming Toronto appearances at JFL42 as well as his animated series,  The Awesomes. We were wrapping up, and I thought I'd better bring up one more subject: Joan Rivers. The latest report suggested she was "resting comfortably." In Rivers-speak, that was code for "near death."
The 81-year-old comedienne, who passed away Thursday after complications from throat surgery, was such a polarizing figure in late night. Her appearances on The Tonight Show starring Johnny Carson–dating back to the mid-'60s–brought big laughs and high ratings. Carson invited her to guest host, and by the '80s she was the one and only permanent guest host of The Tonight Show.
I was living in LA in 1985-86 and saw Rivers' host a Tonight Show taping. For all her stand-up comedy skills, she was a pretty good listener at the desk.
Flash forward 35 years and a woman in late night still seems like a radical concept. Rivers barged down the door and could she talk. Fox offered her her own show. Did she ask Carson's blessing? He didn't think so, and never spoke to her again.
That fallout dogged Rivers for years. You didn't see her on Letterman–Carson's defacto heir–for decades. She was frozen out of the late night scene, but she stuck around and reinvented herself and pretty much willed herself back in.
"I had her on the show just a few weeks ago," Meyers told me Wednesday. "It was just a delight for me. She is someone who is so purely funny in a way that so few people are. It was just incredible to have her out on stage. I barely had to say anything, she was just one joke after another. "
I mentioned to Meyers that I marveled at Rivers' energy in recent years when I would encounter her on the TCA press tour. There she would be, dragging Melissa around, yakking to anyone with a digital recorder. She was tiny, but a force. Mention Brian Linehan to her–the Hamilton, Ont.-born movie interviewer and all-knowing TV host–and Rivers would clasp your hands and get all verklempt.
"The older you get, the harder you have to work," said Meyers, "and no one proves it more than her. She set a standard a lot of us comedians hope we can work up to."
No kidding. Rivers kept humping it up to Mississauga to go on the Shopping Channel to sell bling and books. As she said on that unblinking 2009 documentary on her life–Joan Rivers: a Piece of Work--a blank schedule to her was death.
She could be viciously funny. "Elizabeth Taylor is so fat, she puts mayonnaise on aspirin."  Taylor's blood type, according to Rivers? Gravy. Madonna just lost 30 pounds–"she shaved her legs."
It worked because she was even tougher on herself. "My breasts are so low," she'd say, "now I can have a mammogram and a pedicure at the same time."
She was Old School and at the same time ahead of her time, so at home today on Kimmel or Graham Norton or Louie.  The time she stormed off The Apprentice with daughter Melissa remains for me the best reality show moment ever. Yet she stood out on The Ed Sullivan Show. That is a career.
Would she have wanted to follow Robin Williams? No comedian ever wanted that. Rivers' death is almost as shocking as Williams', even though much of her was over 80 years old. She kept renewing herself, physically and otherwise, and didn't seem anything but a vibrant life force ready to pounce on the next celebrity faux paux.
Sometimes , however, life simply sneaks up and gets you by the throat, and that is that. Rivers knew this better than anyone. She said stuff no one else would, because the clock was ticking and she didn't give a damn. Funny, to her was funny, even death. "I've had so much plastic surgery," she said, "when I die, they will donate my body to Tupperware."
Can we talk now that Rivers is gone? Yes, but it won't be the same.