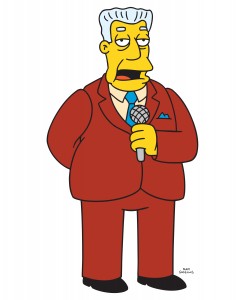 What is there left to say about Bill Cosby? News that, 10 years ago, under testimony in a civil trial, he admitted to drugging women for sex should knock any future endorsements or concert revenues out of that Jello-O tree. Word that Whoopi Goldberg is standing by the man for now seems more about the dire state of The View than the dire state of Cosby.
On this Wednesday's radio chat, AM600 CHML's Scott Thompson also asks for some reaction to news that Harry Shearer is returning to voice Mr. Burns, Smithers, Ned Flanders and others on The Simpsons. As Shearer's character, anchorman Kent Brockman might say, "This reporter smells an about face!" Shearer is fiercely individual a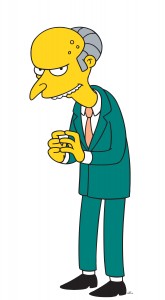 nd has stared down TV executives before but he had to blink here. The guy lives in New Orleans, is Skyped into Simpsons table reads and does all his voice work from a sound booth in his house. They guy literally phones it in. He does not even have to put on pants, and he makes a reported US$300,000 per episode. Ay carumba!
Shearer, by the way, is 71. He's worth every cent just for those "Be My Vest" song and dance numbers alone. But showrunner Al Jean was ready to replace him this time and was not bluffing. The series can ramble on now past the 600 episode mark with the main six voice actors intact.
Voice veterans have been replaced in the past. The late, great Mel Blanc originated the voice of Ba
rney Rubble on The Flintstones. About a year into the '60s series, Blanc was involved in a near-fatal car accident and Daws Butler–who did many Hanna-Barbera voices–filled in for a while. Barney sounded different, though, and it was good to get Blanc back.
I also talk to Scott about Wednesday's premiere of the third season of The Amazing Race Canada (CTV, 9 p.m.). I try to skip over mention of my involvement in Tuesday's media challenge, but to no avail.
You can listen in here.