PASADENA, Calif. — Get ready to say goodbye to Jimmy McGill — and hello/goodbye to Saul Goodman.
The cast and producers of Better Call Saul told reporters Thursday that there will be just two more seasons of their AMC series, starting with a 10-episode 5th season which begins Feb. 23 and 24 with a t
Tommy NEW Trailer Drama CBS 10p
The latest CBS crime procedural stars Edie Falco as a New York cop who moves to the opposite (and, objectively, better) coast to become the LAPD's first female chief of police. The series comes from Paul Attanasio (Bull, Homicide: Life on the Street) and also stars Michael Chernus, Thomas Sadoski, and Adelaide Clemens.
wo-parter. In 2021, a 14-episode 6th and final season.
That will bring the total number of episodes up to 63 — one more that the series it was spun off from, Breaking Bad.
There were jokes/suggestions that the series might go on and on like a Disney Star Wars franchise — complete with a Baby Yoda version of Jonathan Bank's crusty character, Mike — but creator/executive producer Vince Gilligan doesn't foresee that happening as of now.
The six cast members and two executive producers who sat on stage Thursday may have already started celebrating before the press conference. Everyone seemed relaxed and happy and ready to put on a show and spill some beans. The result: the best press conference so far of the winter TCA sessions.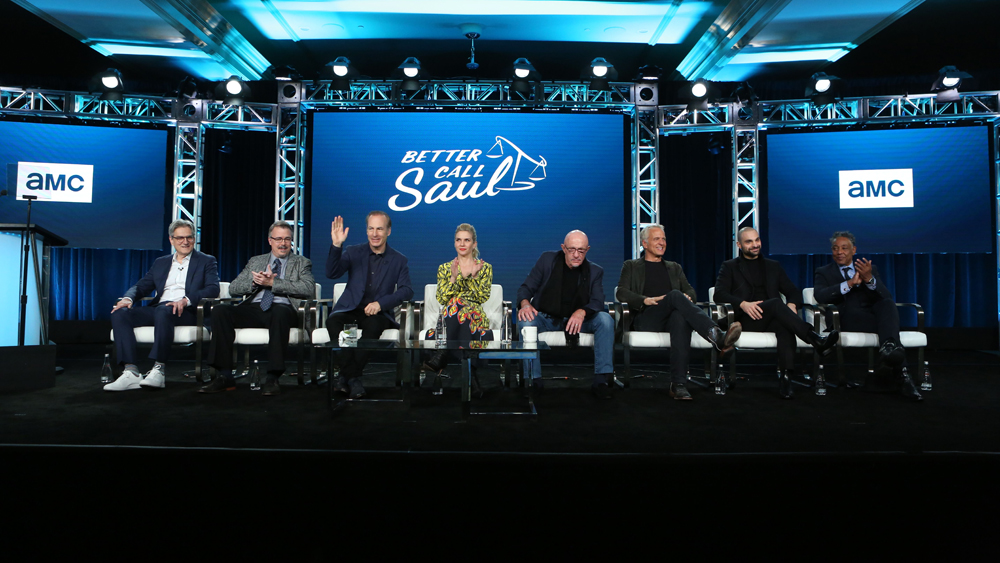 A short, comedic scene from the upcoming season between Bob Odenkirk and Rhea Seehorn was shown. Gilligan said he loved the scene even though he had nothing to do with it. "This is really, to me, a scene about two people who love each other and really enjoy the hell out of each other's company."
Banks stood up several times during the session to trash his Breaking Bad costars Bryan Cranston and Aaron Paul. They won't be seen in Season Five, we were told, but if they show up in the sixth season Banks hopes "the door doesn't hit them in the ass. Bobby and I carried those two ratbags for a year."
Giancarlo Esposito gave a grand speech, comparing the two shows to a bad of nuts: similar shells, different meat inside. He elaborated for a full minute and a half, building to a feverish crescendo. He drew applause from the room that never claps. Odenkirk quipped that he wanted a recording.
Executive producer Peter Gould says a few characters from the previous series — which is set after Saul — are going to be joining this cast in Season Five, including, by episode three, Dean Norris. That actor plays relentless DEA agent Hank Schrader.
Gilligan directed episode eight and apparently bullets start flying everywhere. He claimed that he just realized during the session that this series isn't really about Saul at all — it's about Jimmy. "It just dawned on me, because Saul's not worth making a whole TV show about," Gilligan explained.
For the uninitiated, Odenkirk plays Jimmy, a former con man who needs an alter ego when he tries to start a new life as a lawyer. Saul Goodman (think, "S'all good") becomes the alias he uses throughout Breaking Bad.
Gilligan struggled not to dismiss the character simply as comedy relief in the initial series but that's what he meant. Goodman's not a character to build a show around; better to focus on Jimmy McGill. "That's the fascinating guy who's worth being number one on the call sheet, in terms of that's the guy you wanna tell the story about. "
Nobody disagreed. Afterwards, the cast and producers spilled into the lobby where reporters scrummed to their heart's content. It was a nice, nostalgic way to end the day. Press tours used to cater more to beat reporters, back when there were beat reporters. These weeks, talent is whisked off stage through back doors and marched to other corners of the hotel to talk to electronic or foreign press stations. This close knit cast still care about print reporters, and the feeling is mutual.
I was able to chat with the impressive Canadian in the cast, Michael Mando, for as long as it took. The Quebec native is on the spot in Season Five. "I wouldn't want to be in Nacho's shoes," said Gould of Mando's enforcer with a conscience character. Mando was thrilled to wear those shoes in this season ahead. Look for him to have more than his usual amount of screen time in Season Five.
Afterwards, Odenkirk and company kept being available at the relaxed and thirst-quenching AMC cocktail mixer that ended the evening. We're going to miss these guys.