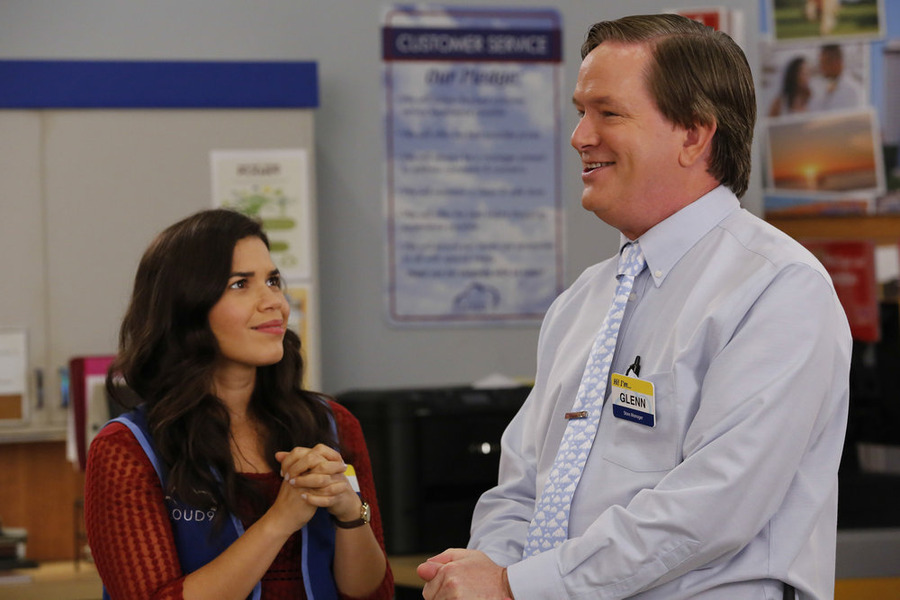 Superstore is a new comedy airing Monday nights at 8 p.m. ET/PT on NBC.  It's uncool on purpose, one of those bench player sitcoms you kinda know networks throw on in the winter while they're developing something better.
That doesn't mean it's not worth a look or that it might not even be somebody's favourite new show. It has a cool cast, inc
luding two Canadians: Mark McKinney, always welcome, and sassy Bellville, Ont., native and Second City alumni Lauren Ash (Super Fun Night).
They're two of the many Canadians who seemed to swarm every other panel during the TCA winter press tour in Pasadena, Calif. I tallied all the snowbirds up for The Canadian Press and you can find out more about them here.
Superstore is basically Brampton in a box. It's a work place comedy about a big box outlet store–Costco, or Walmart–that could be at Kennedy and Queen, or the 410 and Bovaird. The store is called "Cloud 9" and there are a few empty Target stores around Brampton if they want to move right in.
America Ferrera (Ugly Betty), Ben Feldman (Mad Men), Colton Dunn, Nico Santos and Nichole Bloom also star.
When I first saw this show it seemed tailor made for countless product placement promotions. Creator Justin Spitzer (Scrubs, The Office) says except for a few free appliances he hasn't really cashed out on a placement level yet. I guess that comes in Season Two.
It also struck me as a series that could easily be made in Canada. The terrain is familiar, it can't be expensive to produce and you could see Pat Thornton or Naomi Snieckus smacking this out in their sleep.
Plus, many Canucks started out as retail nerds–including McKinney.
The Kids in the Hall trouper once worked at Canada Trust between comedy gigs in Toronto.
"It was through a temp agency," says McKinney. "I was with a fun group of people. I thought I was king of the hill so when they moved me to another department I threatened to quit." It was at this time Canada Trust parted ways with Mark McKinney.
"I got fired from many, many jobs," he boasts. It all went in the comedy file.
Ash also worked retail in Canada, in the footwear department at Zellers.
People's expectations of high schoolers working these jobs are pretty high, she recalls. "For example, women coming in with their children. 'Fit my child's shoe.' And I'm 16 years old. I have no training. I'm studying in the back for a calculus test."