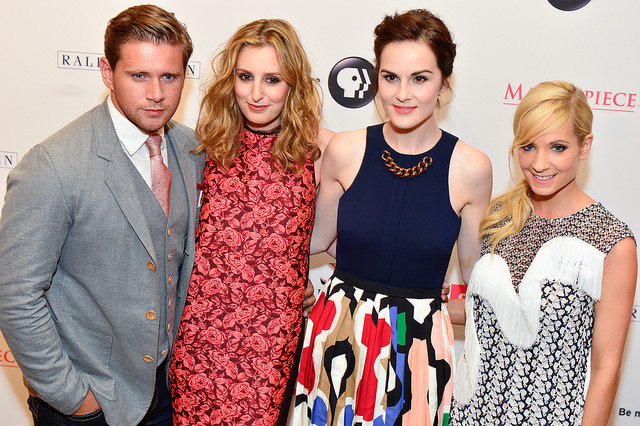 BEVERLY HILLS, Calif.—Downton Abbey is PBS's Super Bowl. The ITV import draws the highest ratings on the public broadcaster and network officials once again gave it red carpet treatment at press tour.
Reporters were given yellow wrist bands to get into Tuesday night's dinner event, where four cast members, along with a couple of producers, sat before the press.
Before the Q&A, reporters were teased with some top secret clips from Season 5, which will begin airing in the fall in The U.K. but not until January 4 in North America on PBS. How this still works in this era of spoilers and the Internet is beyond me.
The clips didn't reveal much about Season 5 and neither did the cast. We were told that guest starts Paul Giamatti and Shirley MacLaine will not be returning this coming season. It was suggested that there will be a lot of big changes and that things get personal.
"You're expecting the Downton Abbey Red Wedding, aren't you?" kidded Allen Leech,  who plays aristocrat-in-training Thomas Branson. Leech was by far the jokiest of the quartet. Laura Carmichael (Lady Edith) was amused by theory that she is Lady Rosamund's child. As long-time Buffalo News critic Alan Pergament has observed, Lady Mary (Dockery) is still "colder than a Buffalo winter."
Masterpiece's Rebecca Eaton also  ran clips of four new Brit imports airing on PBS this season: Grandchester, a new version of Poldark, Indian Summers and Wolf Hall starring Damien Lewis.