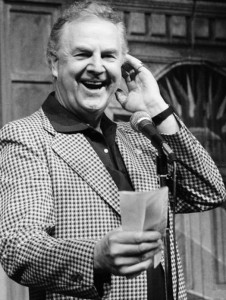 Born Feb. 22, 1918, Dominick George "Don" Pardo joined the NBC Radio Network as an announcer in June of 1944–or, as Lorne Michaels once pointed out, "before I was born."
Michaels hired Pardo in Sept. of 1975 as the original announcer for Saturday Night Live  and, save for one season in the '80s, he has been the announcer ever since.
That streak ended with last May's season finale. Pardo died Monday in Tucson. He was 96.
Up until the last few seasons, Pardo still flew to New York every weekend to work the show.  He would leave his condo in Tucson, Arizona, fly to New York, then cab it to Manhattan's Rockefeller Plaza, where he would head to the eighth floor, stand in Studio 8-H and bellow, "It's Saturday Night Live!"
He tried to retire in 2004, but Michaels worked it so Pardo could continue to be the voice of the show from a special studio built into his Arizona condo.
Pardo's distinct baritone is also associated with several game shows. He announced the old Art Fleming version of Jeopardy! during the '60s and worked The Price is Right back in the '50s. Fleming always made a point of mentioning Pardo's name on air. The original daytime version of Jeopardy! ended in 1975, allowing Pardo to accept the offer to announce on SNL.
As the on-duty booth announcer for WNBC in New York on Nov. 22, 1963, Pardo was also the first to break the news to NBC viewers that president John F. Kennedy had been shot. (His 1:45:03 p.m. EST bulletin interrupted a rerun of Bachelor Father in New York.) Believed for years to be lost, Pardo's historic announcement was recorded off the air and archived by then amateur audio buff Phil Gries, who donated it to the Kennedy Library in 1997.
Saturday Night Live returns this September for a 40th season. Michaels–who, incredibly, turns 70 in November–says there will be a salute to Pardo. Who will replace him? That hasn't been announced yet, but long-time SNL impressionist Daryl Hammond did substitute one time for Pardo when the announcer had to miss a week two years ago due to hip surgery.
For a sweet little video salute to Pardo–prepared for his 2004 NBC "retirement"–go here.