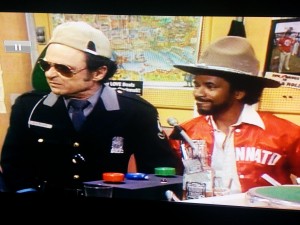 "Hats off" to my daughter Katie for spotting this: Tim Reid was sporting a state trooper stetson 35 years before Pharrell made them hip. Over the holidays, I was schooling Katie on the art of WKRP in Cincinnatii from the Shout! Factory DVD complete series box set. We were getting into the classic "Fish Story" episode, the one where Herb Tarlek (Frank Bonner) dresses up as the radio stations' carp mascot.
There was Venus Flytrap (Reid) in all his stetson glory.
"Put that on your blog," she suggested. I take all new media suggestions from my offspring very seriously.