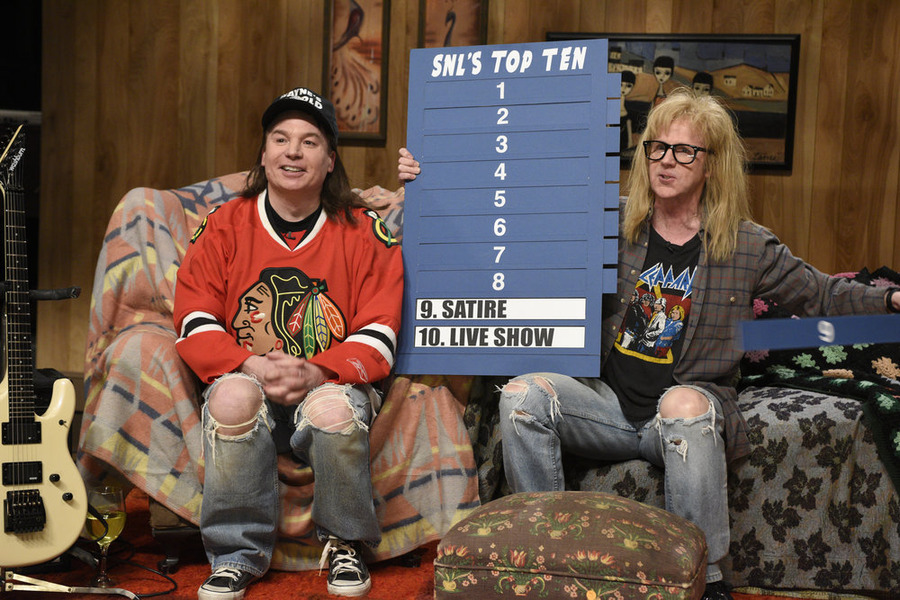 There was a lot of disappointment Sunday night, on Twitter at least, in Eddie Murphy's return to Saturday Night Live. He was lionized by Chris Rock, walked out the door and down the steps past the band, and basically took a bow. It was anticlimactic, like when Dave Keon finally returned to Maple Leaf Gardens. The fans who really cared, who would have gone wild, had moved on.
Where was Gumby, dammit? Still, Murphy got one thing right in Sunday night's three-and-a-half-hour 40th anniversary special: it was just like a high school reunion.
And like a lot of high school reunions, this one could have used more cowbell. Still, if you grew up with this show, it was the ultimate nostalgia-fest. They could have done without some of the catch phrases, but NOOooooo.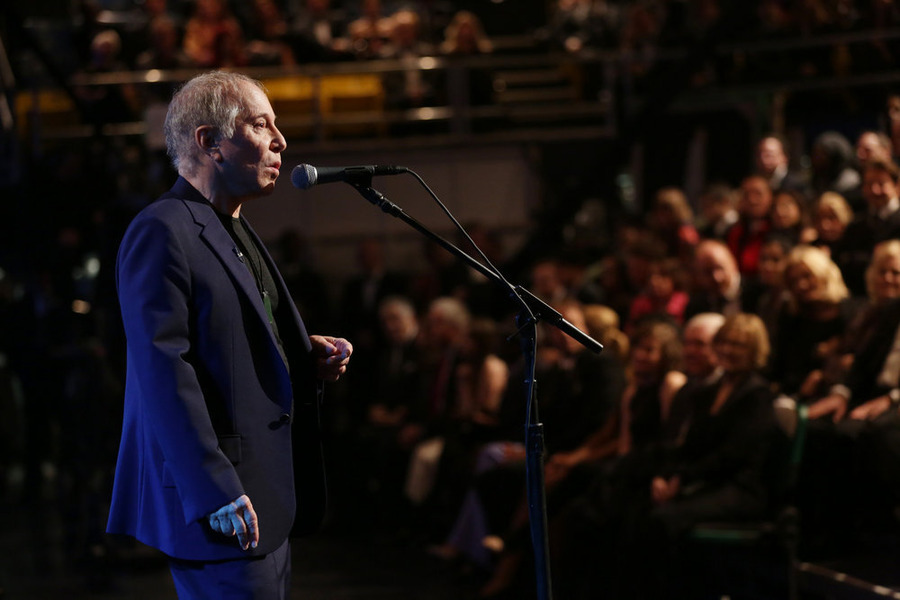 Many of the memories were triggered by the music. You never quite shed the soundtrack of your life, the tunes you grew up with. When Paul Simon, sang "Still Crazy After All These Years" to close the show, every boomer watching got verklempt. We are, as it turns out, all fools for love songs that whisper in our ears, "still crazy after all these years."
There were a lot of tempus fugit moments on Sunday's show. Simon's moment worked because the song was so melancholy and meaningful and he was so gracious and humble, shining a light on the band after all these years. His voice, at 73, no longer has the full range required for that simple, up and down melody, but he stood there and found a way around it and it was close enough. The frailties only made it that much more poignant.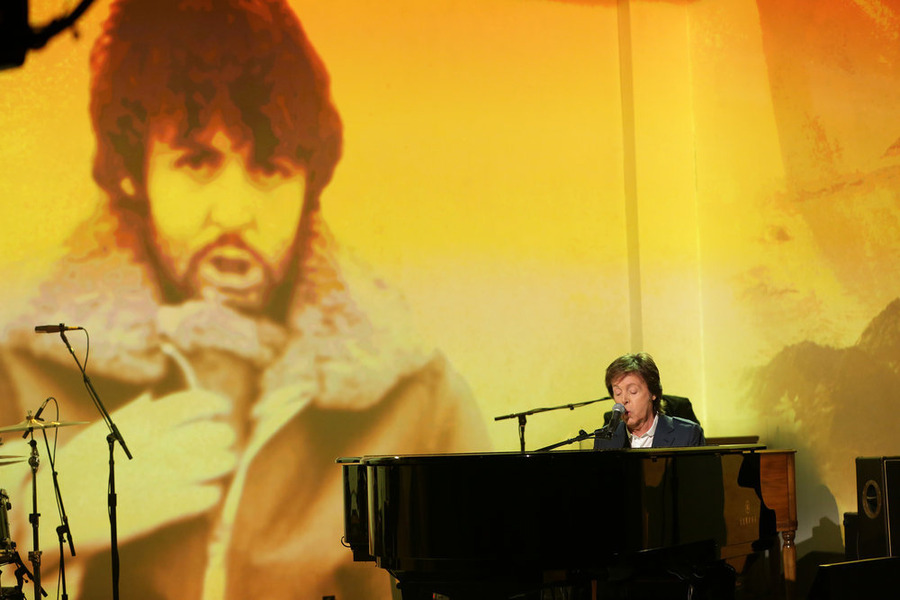 Paul McCartney found less forgiveness earlier as he performed "Maybe I'm Amazed," a song he first recorded five years before Saturday Night Live went on the air. It's a powerful love song, and his band pulled him through it, but his voice is understandably thinner. Maybe I'm amazed he can still sing at all.
Miley Cyrus performed another Simon song earlier in the night, "Fifty Ways to Leave Your Lover." I thought she nailed it and giving her that moment was what Saturday Night Live should always do–showcase people in their prime.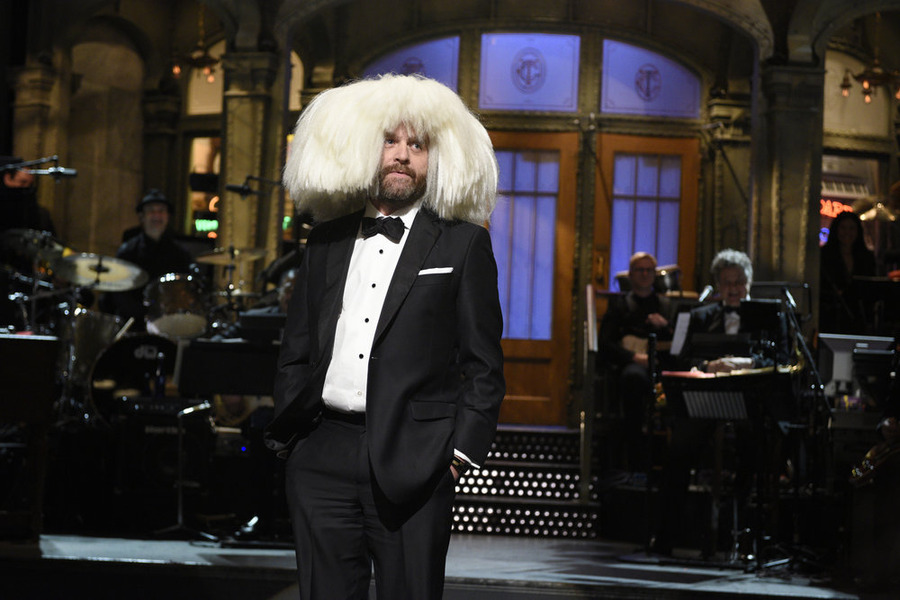 Even Kanye West singing flat on his back–SNL was where you tuned in to see the strange. Still, it would have been fun to see John Belushi lying next to him and goofing on the bit. (Zack Galifanakis must have thought so too–he invoked the spirit of Belushi later by sporting Sia's crazy-ass wig.)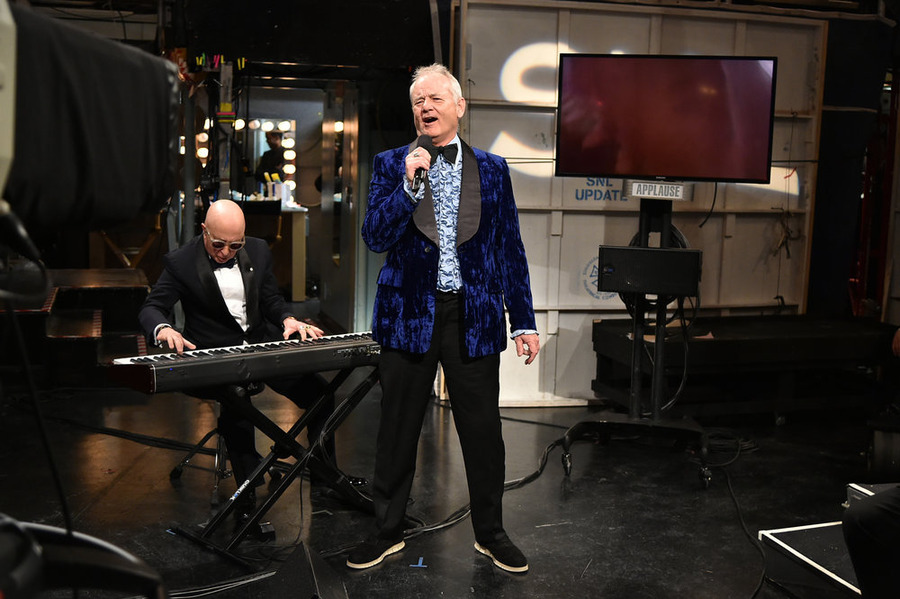 It was chilling, after Bill Murray seemed to reluctantly set up the In Memoriam segment, when a ghost-like Belushi was seen, standing in the "Not Ready for Prime Time" graveyard. He was old, like his surviving peers on Sunday's show. He was saying everybody thought he would flame out first, but here he was. Would it have been so.
Then it was hilarious when Jon Lovitz was the last name on the dead list. Liar! Less settling was seeing Joe Piscapo, back doing his Sinatra impression but looking older than Frankie ever got.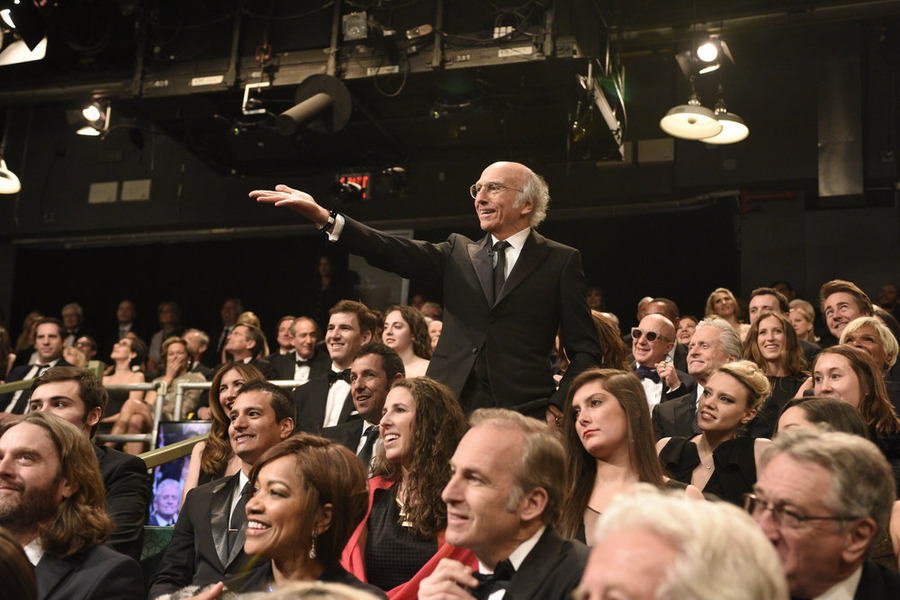 Jerry Seinfeld was smarmy-good taking questions towards the end from the all-stars in the audience. The bleachers were packed with former cast members, guest hosts and musicians. Some were put to work, like when Keith Richards introduced Paul McCartney and Candice Bergman also did an intro. Seinfeld and Larry David stole the room for a minute waxing on how great all their success was and how they had the last two tickets to Disneyland. It was a nice, mean, New York moment.
The audition segment was the best out-of-the-vault moment by far. Seeing Gilda Radner flood the screen with warmth from the very get go was super sweet. Jim Carrey's post nuclear Elvis impression should have made him a shoe-in. Carrey shone Sunday night, bringing his Mathew MaConaughey impression back for a smart and funny "Celebrity Jeopardy" sketch.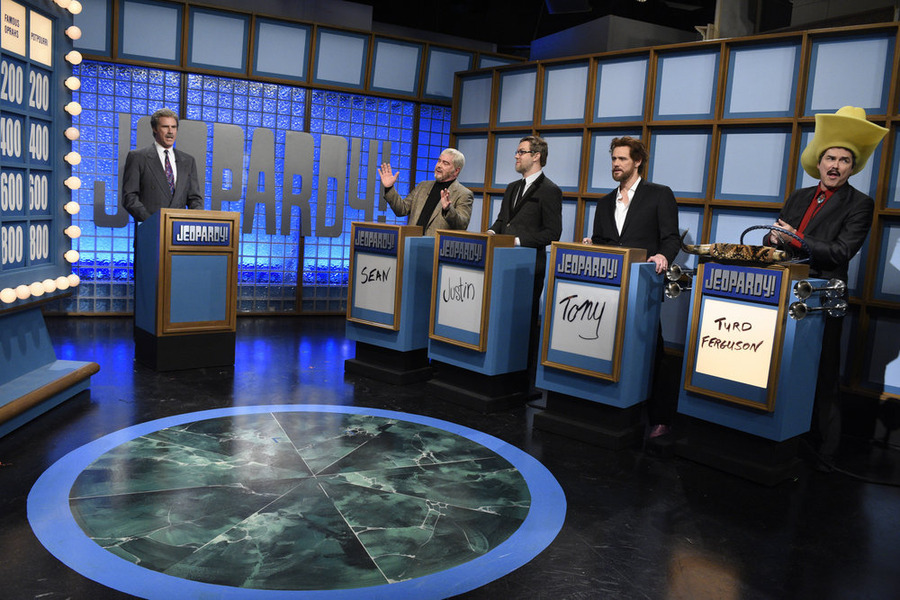 Watching Will Ferrell and Darrell Hammond drop effortlessly back into their Trebek/Connery characterizations made me think SNL should invite alumni back every week to put a new spin on classic bits. This party could easily go on for a full season. (Trebek, by the way, was another Canadian in the all-star audience).
Another guy who never gets old on SNL is Alec Baldwin. His Tony Bennett in an earlier sketch was bang-on terrific.
The special did phenomenally well. Overnight estimates show that 23.1 million viewers watched it Stateside on NBC. That's a Sunday number not reached on the network, outside of Super Bowl broadcasts, since ER went off the air 10 years ago. It did a 7.8 rating among 18-49-year-olds during the three prime time hours of the show, a huge hit in an era when a 1.5 will likely get your show renewed.
There were a lot of Canadians on stage Sunday night: Dan Aykroyd (re-doing his classic "Bass-O-Matic" bit), Martin Short (ever the trouper), Norm Macdonald (they showed the Weekend Update O.J. quip that got him fired), Mike Myers (still gold with Dana Carvey on Wayne's World), Robin Duke, Mark McKinney, Paul Shaffer, Carrey and, of course, Lorne Michaels. Phil Hartman was there too.
Michaels was dragged on stage at the end by Steve Martin. He is, as Bill Carter keeps reminding me, the biggest Canadian-born star to ever work in American television. He set some sort of record for cramming talent on a stage Sunday night, live from New York.