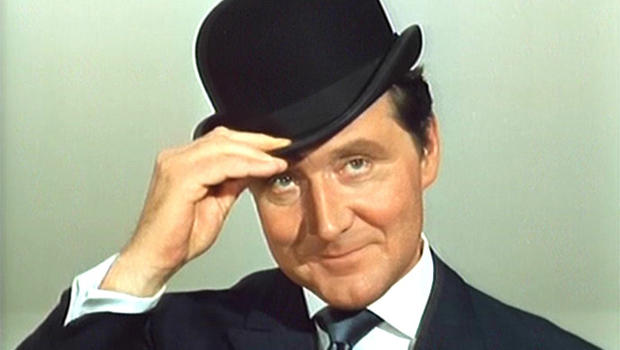 Early on in Patrick Macnee's rollicking, anecdotal autobiography, Blind in One Ear, the actor describes his great-grandfather Daniel Patrick Macnee as a randy, free-spirited artist known to his friends as "The Prince of Raconteurs."
Like his namesake, the thrice-married actor picked up where the old boy left off with tales of life, lust and showbiz behaviour too wild to be anything but true.
That was my impression in 1988, when Macnee was in Toronto promoting his book. I was working for TV Guide Canada at the time. Macnee had me in stitches with tales of his mother (she left his father for another woman) as well as his school days at Eton (he was kicked out for among other things, gambling, gin running and pornography).
Macnee died Thursday at 93.
His classic '60s spy series The Avengers seemed very adult and sophisticated back when I was a lad but really it was so camp you could see the tents. I had no idea "Emma Peel" stood for M- or Man Appeal, but I did know there was something about Diana Rigg that–like all those wartime references in the Warner Bros. Looney Tunes–I might get when I got older.
Macnee played John Steed on the series, veddy English right down to his bumbershoot, bowler hat and all those Edwardian clothes. Paired earlier in England with Honor Blackman–later Pussy Galore in "Goldfinger"–the series was very much part of the Swingin' London scene by the mid-'60s. Clad in those peek-a-boo leather suits, Rigg added kink and karate chops to the mix. By 1966, ABC imported the spy series, making it the first British program to make a U.S. fall schedule.
What I didn't know about Macnee until I interviewed him was his role in the early days of Canadian television. In the '50s, he worked at the CBC with the likes of Christopher Plummer, John Colicos, Norman Jewison and Lorne Greene, "some of the most gifted people I have ever known."
Another Canadian connection was Toronto-born Linda Thorson. At 20 and fresh from the Royal Academy, she followed Rigg as Steed's third partner on The Avengers, Tara King.
Alas, that was a bit like replacing Scully on The X-Files. The series ended in 1969.
Macnee returned to the role in The New Avengers in the mid- '70s where he acted opposite a young Joanne Lumley (Purdey).
The London-born actor, a cousin of David Niven, went on to many other roles, including an ally of James Bond in "A View to a Kill" (1984) and Sir Denis Eton-Hogg in "This is Spinal Tap." He took part in over 150 stage productions, including "Sleuth" on Broadway in the '70s.
On the day I spoke with him, in a Toronto theatre, he was happy to run down all his successes and failures, considering them all part of his "unquestioning acceptance of the odd or incongruous."
How stylish was The Avengers? Check out the opening credits from Season Five, featuring, for my money, the best damn TV theme ever, composed by Laurie Johnson.