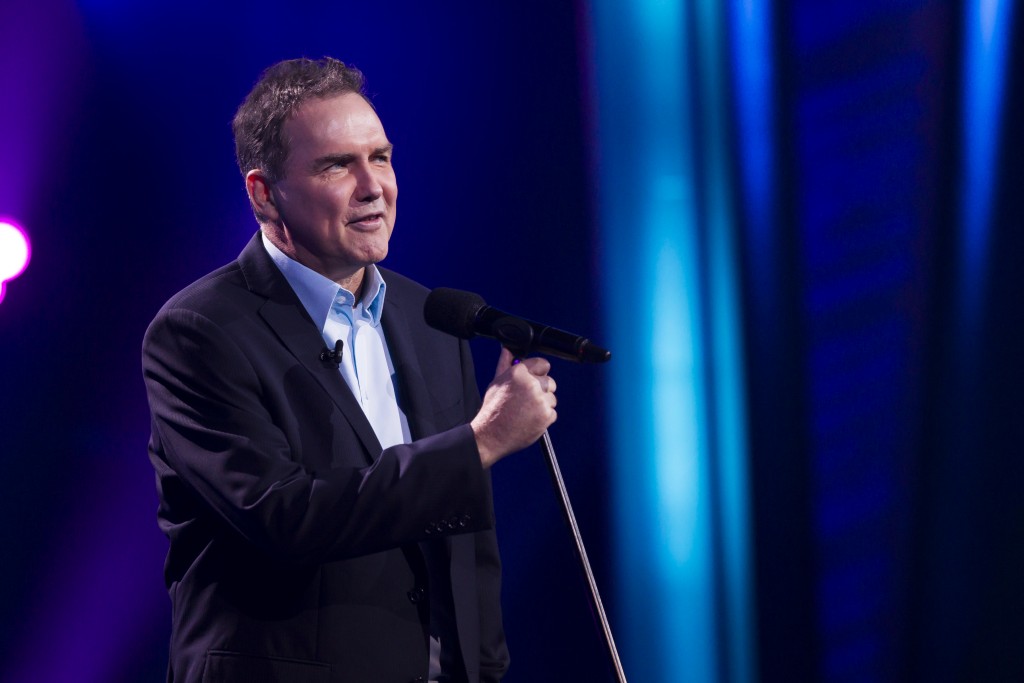 A few weeks ago when I was in Montreal for Just for Laughs I caught up with Norm Macdonald.
The 51-year-old comedian has long been a favourite of mine, dating back to his days as Saturday Night Live's most fearless Weekend Update anchor. Twenty years ago, Macdonald knew the next shot he took at O.J. Simpson might get him kicked out of the anchor chair and it eventually did. NBC West Coast boss Don Ohlmeyer was friends with Simpson and while he said he ditched Norm because he never found him funny, well, if that was a crime, half the cast would be in Alcatraz.
No, Macdonald was canned because he spoke what many thought during the sensational Simpson trail. On the SNL episode following the acquittal, Macdonald opened Weekend Update by saying: "Well, it is finally official: murder is legal in the state of California."
Now, I kinda operated on a similar wavelength when I was the TV columnist at The Toronto Sun. The guy way at the top didn't think I was funny either, and so instead of being seen on the side of buses, I was thrown under one.
That was a long time ago, and now it just makes for a good story, which I think is what drives Macdonald. As you get older and wiser, however, spitting into the wind gets to be less fun. Still, occasionally, some of us just can't help it. I blame the Smothers Brothers.
But I digress. Macdonald lets it rip most often these days on stage, logging over 300 stand-up shows a year. He also does TV, acting as a judge this summer on Last Comic Standing. He can be heard on the City comedy gem Sunnyside, which returns Sept. 15. Macdonald plays the voice in a hole in the road where all the townspeople holler down questions—sort of a sewer search engine. "I loved the pitch," says Macdonald, a big fan of co-creator Dan Redican dating back to Redican's days with the Canadian comedy quartet The Frantics.
He also, as my son Dan pointed out to me recently, can also be heard as the voice of a pot-smoking pigeon in the animated comedy "Mike Tyson Mysteries" (carried in Canada on Netflix), an Adult Swim throwback to such Hanna-Barbera classics as "Scooby-Doo" and "Jonny Quest."
When he's not doing TV or stand-up, the Quebec native has been doing a lot of sitting down lately, especially in front of his laptop. He's become a storytelling sensation on Twitter where he has well over half a million followers.
The remarkable thing about his tweets is how much depth and sensitivity her crams into 140 characters. One year ago, when he tweeted about the death of Robin Williams and what "The Funniest Man in the World" meant to him, well, some of us wept.
Same with his touching Twitter reports on the Letterman finale. Macdonald doesn't just tweet jokes, he tells stories. He's the Mark Twain of Twitter.
He can also dish some juicy backstage dirt as he did about that Saturday Night Live 40th anniversary special last winter. Macdonald spilled the beans on how the Jeopardy sketch was supposed to feature Eddie Murphy as Bill Cosby and how Murphy refused to do it. One colleague chastised him for telling stories out of school but Macdonald was only doing what he does best–getting to the truth. With Twitter, he may have found a truthier fit than television.
He also, through a dozen or so tweets, let followers in on a meal he shared with the great Bob Dylan. Those tweets were up and down in a matter of minutes. When I asked Macdonald if Dylan had called and told him to yank them, he stammered out a "perhaps."
Which is hilarious. Even when he is not answering Macdonald finds a way to tell the truth.
I wish I had Macdonald's gift for Twitter. He can tell so much with so little and lets you read a ton between the lines. Follow him here (although you might want to ignore him on the weekends when he tweets obsessively about golf tournaments. Even he admits he's a bit obsessive about that.)
You can also read more about Macdonald, including the book he's working on, here at this feature I wrote for The Canadian Press.
My favourite Macdonald tweet? It was sent out just days ago and I swear I didn't write it:
I'd like to thank @BillBriouxTV for a fine and finely-written article on me. A real journalist working in entertainment. Outstanding!!!

— Norm Macdonald (@normmacdonald) August 7, 2015