https://www.youtube.com/watch?v=KxC5WLLueNo
Today was my first "take daddy to work day."
Full disclosure: my son, Daniel Brioux, is part of the program development team at Vice Canada. Thursday, press were invited to scope out the new Vice studios in Toronto's trendy Liberty Village.
The state of the art media space has been carved into a century-old brick factory. In just over a year, around 140–ramping up to 180–Ryerson grads, un-jaded industry veterans and other media school keeners have been thrown onto a floor full of iBooks and 4K monitors. The main open space looks like a gamer dream school.
Four glass-walled cubicles give managers a degree of privacy. A glass-walled main studio sits in a black rectangle across the back. Out front, visitors step into a hipster bar area modeled somewhat on Vice's Brooklyn playpen. Big leather chairs can be enjoyed by execs in a classy lounge area, nicknamed "The Bear."
Reporters were gathered–where else–by the bar. Vice co-founder Suroosh Alvi and Rogers' new president, ol' TSN smoothie Rick Brace, made the announcements.
The first is that moms and dads still connected to their cable cords will soon get to see what Vice is all about. The new specialty channel Viceland launches in the new year in Canada, likely the end of February/early March. (Wednesday in New York it was announced that Viceland will hit US cable in partnership with A+E networks.) Anyone remember Bio? Rogers is ditching that faded brand–located in the cozy channel 15 slot in most Toronto-area Rogers' channel menus–and rebranding it Viceland.
Viceland is not Disneyland, not even by way of Banksy. There is a defiance and an aggressiveness to the programming, at least in the kinetic clip reel shown reporters. It is as bracing and timely as a Justin Trudeau swearing in ceremony.
Alvi tried to avoid using the cliche "authentic" to describe the programming concepts but there is no way around the word. He hosts Terror, one of 12 new Canadian-produced shows. The show is basically Alvi dropped into war zones where he confronts members of ISIS, al Qaeda and other actual terrorists. You can't get more real than that.
Another series, Abandoned, features a skateboarder who roams through abandoned shopping malls in America's rust belt. The juxtaposition of dude and dead malls turns the past 40 years of rampant consumerism into a Stephen King movie.
Vice has teamed with some savvy and splashy content providers, including Spike Jonze, in finding its voice. Another upcoming show, Gaycation, features Canadian actress Ellen Page gooning folks such as Republican presidential candidate Ted Cruz. Michael K. Williams (The Wire) is the face of Black Market. Motherboard is a show about the future. Chef Eddie Huang (creator of ABC's Fresh off the Boat) gets his own unscripted showcase.
One of the tangier Canadian shows is Dead Set on Life, with tatted Toronto chef Matty Matheson poised to become Vice's Chumlee.
Viceland is by no means all this little media op is all about. You hear the words "platform agnostic" every 12 minutes on the floor of this studio. All content is aimed at all screens, with Jonze and others urging the kids not just to fill space with a collection of shows but to offer a strong and consistent point of view.
The opening was the culmination of a year-long ramp up of Vice's broadcasting centre. What was once a feisty little Montreal alternative music magazine has, in 21 years, become one of the hottest media properties in North America. Brooklyn has served as the broadcast base camp the past eight years, with Vice dishing content directly to mobile users and into HBO homes.
Traditional studios and networks quickly clued in that co-founders Shane Smith and Suroosh Alvi seemed to have the attention of the demo nobody else has figured out–millennials. A pre-election Vice on-line interview with new Prime Minister Justin Trudeau, for example, has been streamed over three million times.
Disney, Fox and others have all scrambled to get a piece of the action and, a year ago, Rogers committed a hefty, pre-Jays playoff run $100 million.
The lucky ones in this high-tech hothouse are the kids. I heard a few references, in terms of spirit, to the early days of City-TV or MuchMusic among some of the more seasoned transplanted producers on the floor. The lack of bitterness and cynicism in a Canadian TV production centre was downright disorienting.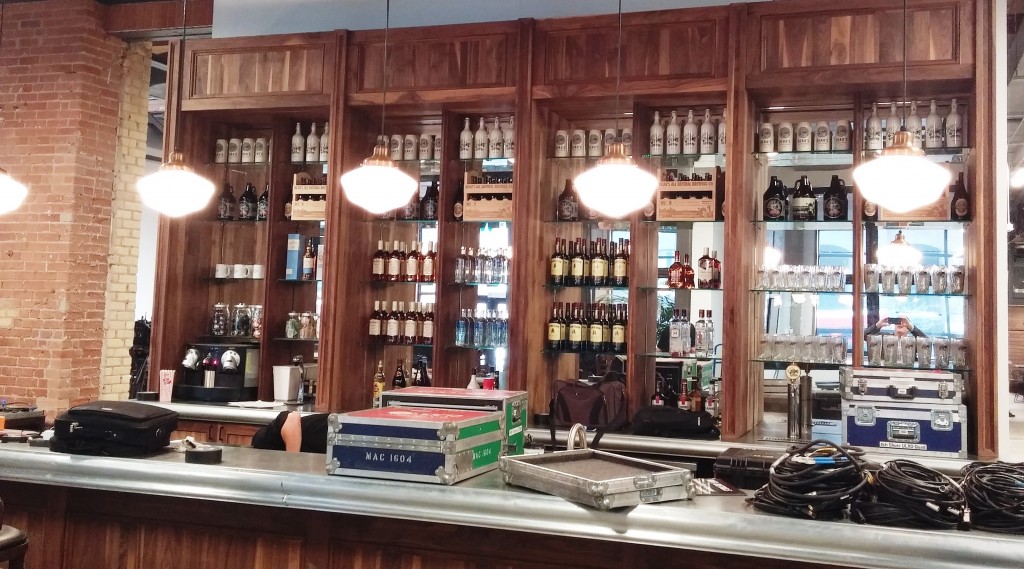 Montreal native Michael Kronish has been cracking the whip as SVP of production at Vice Media Canada. He's been tasked to hold the content to a high standard. It's a tall order with around 700 hours of Can-con as a first year target. Kronish says his Toronto team have been encouraged to think big and take full advantage of this new borderless business of television. Alvi wants Vice to bust loose of the Canadian TV comfort zone where our biggest hits are makeovers of American unscripted shows. Kronish is right in step with that mandate, instructing his charges to produce content, "told by Canadians but aimed at the whole world."
As someone way outside Vice's target demo, it's all very encouraging—even, I would think, if you don't have a relative on the payroll.