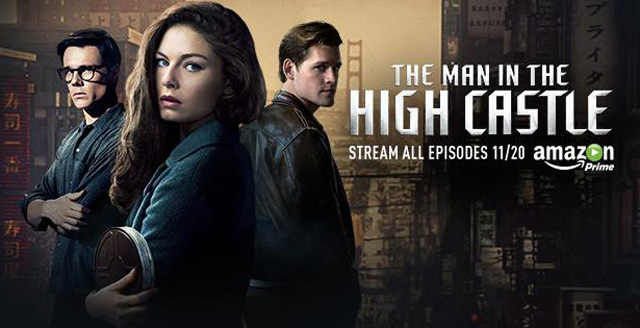 For those of you who may be thinking that whole second (or third) Golden Age of TV thing ended with the finales of  Breaking Bad and Mad Men, brace yourselves for The Man in the High Castle.
The alternate history drama launches Nov. 21 on Amazon Prime. Ten hour-long episodes will drop at once, so put on your jammies and get comfy. If you live in Canada, find a teenager to help you steal see it.
Based on Philip K. Dick's  Hugo award-winning novel, the intense drama has one of those simple premises that makes it almost irresistible: what would have happened if Hitler had won?
The series is set 17 years after the end of WWII, in 1962. Der Fuhrer, pushing 80, is dying. The remaining leaders of the world's two super powers–Germany and Japan–are jockeying for power. It's sort of like what's happening now with the Conservatives post-Harper.
The U.S. has been divied up between Imperial Japan on the Left coast and the "Greater Nazi Reich" on the (far) Right. In between there is a no-man's land running basically through the mountains and desserts of Utah and Arizona that's one dusty wild west of a sorta safe zone.
The cast is made up of terrific if not exactly famous actors. Alexa Davalos (Mob City) plays the curious, risk-taking heroine, Juliana Crane. Luke Kleintank plays adventurous wanderer Joe Blake. Rupert Evans (Rogue) plays good-guy jewelry maker Frank Frink. D.J. Qualls, Joel De La Fuente and Cary-Hiroyuki Tagawa also star.
One of my favourite interviewees, Rufus Sewell–who appeared with Evans in Pillars of the Earth–gets to play an icy, All-American Nazi.
The star of the opening two hours, for me, was the art direction. Kudos to production designer Drew Boughton for creating this Nazi nightmare where every little detail in America–right down to how phone booths are designed–look like they were forged in Berlin in the '30s. That goes double for the big background scenes, where enormous jetliners look like flying bayonets. Times Square in New York is draped in electronic swastikas and street scenes in San Francisco have been painted in Japanese colours and designs. Faded WWI posters in alleyways in the in-between zone have a tattered authenticity. It's set in 1962, but it's very 1984. If you're old enough, imagine Tod and Buz from Route 66 meets Rat Patrol.
There's a slow build to the first hour reminiscent of the deliberateness of that first season of True Detective. You can almost breathe the diesel fumes from the Greyhound buses.
There's a plot point that sure as hell grabbed my attention. A 400-ft can of 16mm film carries enormous consequences for Crane. After the murder in the streets of her sister, if falls to her to deliver the film but first she threads a projector to see what she's getting into. It's a WWII newsreel showing the Allies pushing back against the Nazi's with several victories. The suggestion is that there is an alternate history and that this fascist new world order is some sort of illusion. Crane's job is to help the film go viral in a pre-Internet age–and to get it into the hands of the mysterious man in the high castle.
The series is full of surprises and the payoff to that initial slow build will jolt you out of your seat. Who to root for, and who to hiss, isn't always clear. What is real, imagined and alternative is all part of the ride.
The first two episodes were written by Frank Spotnitz (The X-Files, Millennium) who sets the "truth is out there" tone. Busy Ridley Scott ("The Martian") is on board as executive producer. Production took place in Seattle and Vancouver.
The Man in the High Castle is a rich, ambitious epic in design, tone and storytelling. It's well written and nicely cast and further proof that TV's creative envelope is being pushed more and more in a digital direction.