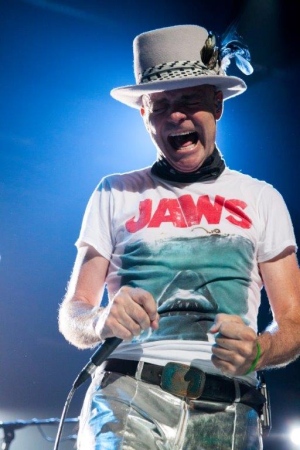 I don't think I've ever tweeted anything that drew over 100 re-tweets before, but a rather simple observation is up around 155 "likes" Sunday morning (and incited about as many more unlikes from The Haters):
Remarkable — any other broadcaster would have littered this showcase with promos and screen crawls #HipInKingston #CBCTheHip

— Bill Brioux (@BillBriouxTV) August 21, 2016
Hell, any other broadcaster would have shown "Jaws" right afterwards, that's how much Twitter attention Gord Downie's T-shirt scored.
When I first started watching Saturday night's concert on CBC, I thought it needed a little context. For viewers like me, who are not seasoned Hip fans (I know, sorry, I'll turn in my passport tomorrow), a voice or two putting the songs or proceedings in context would have been welcome.
As the show went on, however, I began to appreciate the brilliance of just plunking everybody into the best seat at the concert. The band, and the lyrics and the drama surrounding Gord Downie's cancer fight, were all right there. Nothing extra was needed.
Kudos to Insight Productions, veterans of countless Juno broadcasts, for a tremendous night. Cameras always seemed to be focusing on guitar riffs and audience reactions at precisely the right moment.
CBC deserves special praise for keeping everything pure. Anybody else would have cut to, at the very least, the stars of Kim's Convenience or Murdoch Mysteries in the floor seats. All the public broadcaster did all night was place their simple round logo bug on a corner of the screen. As many observed on Twitter, they more than earned that subtle brand exposure Saturday night.
Ron MacLean's intro and post-show segments from Rio were about as close as CBC came to exploiting the event. MacLean is so genuine in his heart-on-his-sleave devotion to The Hip it's hard to take issue with that bit of flag waving.
There will be no rebroadcast or on-demand streaming of the Hip concert, so hopefully a DVD will be sold with profits towards cancer research.
One of the big beneficiaries of the concert could be Your Morning, the new CTV series replacing Canada AM. The series premieres Monday, with  a pre-taped interview with Hip fan, prime minister Justin Trudeau, among the scheduled highlights.
UPDATE: The Hip concert drew an overnight, estimated audience of close to 4.04 million CBC viewers.