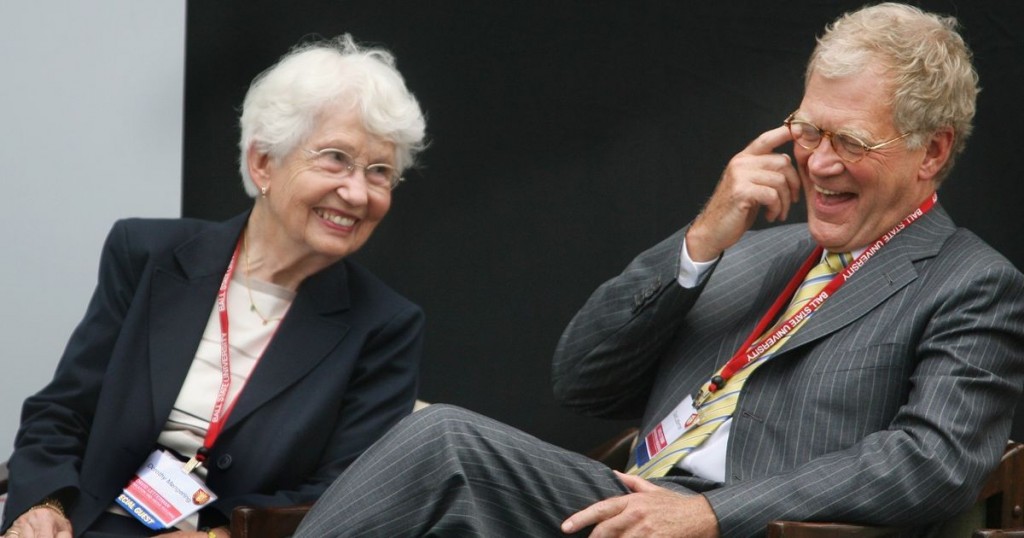 Peter Lassally worked as a producer on three important shows in late night: The Tonight Show starring Johnny Carson, The Late Show with David Letterman and The Late, Late Show with Craig Ferguson. A soft-spoken gentleman, he was in his office on Ferguson's show six or seven years ago when I asked him what the three late night TV personalities had in common.
Even though I knew it wasn't true of Ferguson, I was expecting him to say, "All late night hosts hail from the mid-west," or something like that.  What I didn't expect was what he said:
"They all had difficult relationships with their mother."
Holy big kettle of fish. It's fairly well known by now that Carson's mother was very stingy when it came to praise for her son. The stories in lawyer Henry "Bombastic" Bushkin's book, Johnny Carson, are of a cold-hearted woman, with the King of Late Night only finding out after his mother Ruth died that she kept a scrap book full of Tonight Show clippings. On news of her passing, Carson reportedly quipped, "The wicked witch is dead." He even skipped her funeral.
Much is coming to light now about Letterman and his general weirdness. The case is made in Jason Zinoman's new book Letterman: The Last Giant of Late Night.
Which brings us to the passing of Letterman's mom Dorothy Mengering earlier this week at 95. She died one day before her famous son's 70th birthday.
She appeared twice a year in late night, every Thanksgiving and Mother's Day. She was pretty much the only family connection before Dave's son Harry — named after his late father — became the focus of so many desk bits towards the end of the host's epic run.
You find no clue as to Letterman's true relationship with his mom in "Home Cookin' with Dave's Mom," the cookbook Dorothy did with Jess Cagle 20 years ago. In the foreword, under the heading "Prison," Letterman (or, more likely, one of his staff writers) reports:
Mom's cookies are great. Simply the best. Once, years ago, during my state-funded vacation, I was able to trade a tin of Mom's cookies for several cartons of Lucky Strike cigarettes. Her cookies are that good! True story!
Whatever Letterman's personal relationship with his mom, he always provided a sweet showcase for her in late night. In the early days he used to phone her back home in Indiana; later, he sent a camera crew to her house, with the set up always in the kitchen.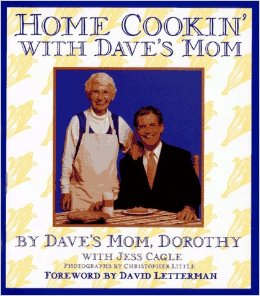 He eventually sent the sweet-looking, grey-haired lady to three Olympic Games where she was an unofficial granny-mascot. Always a good sport, her Mother's Day appearances were like getting an extra slice of home make apple pie.
You also got the impression that she took no guff from Dave, and could still pretty much kick his ass if he got out of line. Of all the staffers and other characters who populated Letterman's late night world, she was the one who seemed to fear him the least.
Incidentally, when I mentioned Lassally's remark about a year ago to Jimmy Kimmel, he felt he and Jimmy Fallon were part of a new wave of late night hosts who enjoyed great relationships with their mothers.
Dorothy was once asked why folks got such a kick out of seeing her in late night. Her answer was the truth: "People enjoy seeing a mother and son together. It's that simple."
Toast Dorothy today with a glass of one of her favourite recipes, "Friendship Tea":
2 cups Tang instant breakfast drink

2 cups granulated sugar

1 1/2 cups instant tea mix

1 teaspoon ground cinnamon

1/2 teaspoon ground cloves

2 3-ounce packages Wyler's Lemonade mix (optional)

Combine ingredients and pour through funnel into large glass container. Cover tightly. The dry mixture keeps for months in the refrigerator.