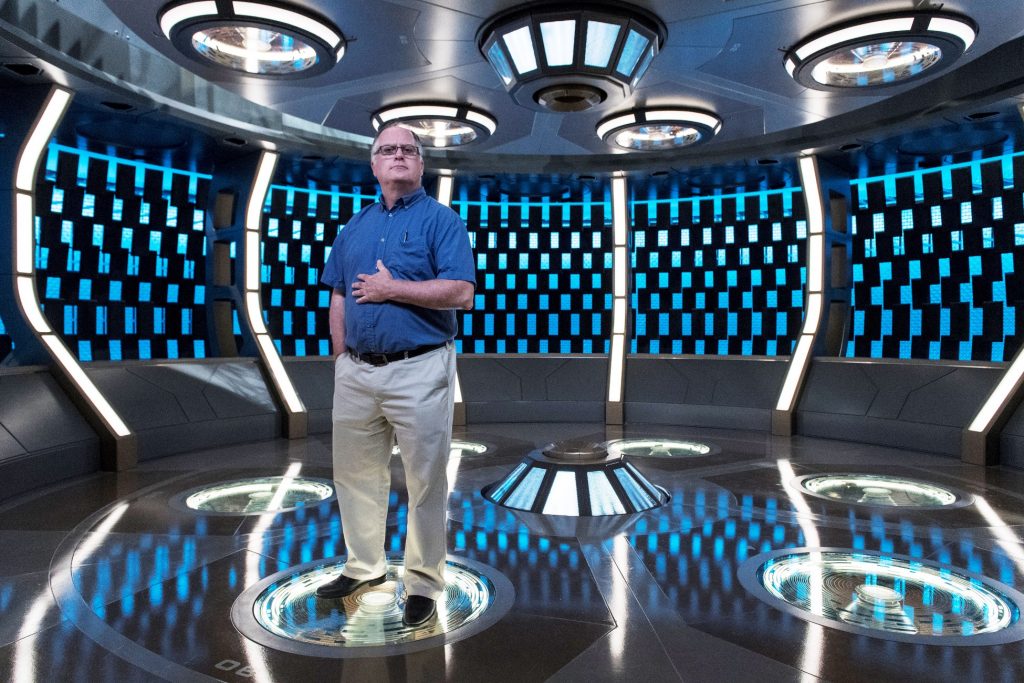 Last month I boldly went — along with about 40 reporters representing outlets from all over the planet — onto the set of Star Trek Discovery.
The series –originally booked to launch last January — finally takes off Sunday at 8:30 pm ET/PT on both CTV and CBS. A second episode airs right after in Canada on Space and in the US on the streaming service CBS All Access. (CraveTV will also have a window on the series, with Netflix offering it everywhere outside of Canada and the US.) Network execs expect this fifth spin-off of the durable Star Trek franchise to "energize" CBS's All Access streaming service.
As you can see above, I got to stand in the new transporter room on board the set for the USS Discovery. With a few shower stalls,  etc., this area also doubles for the transporter room of another ship. (I posed for another shot pretending to shower but CBS International's press department must have lost that somewhere in the galaxy).
Every reporter had to sign waivers promising not to spill the beans about any plotlines or even post we were on the set until a certain date. There was little danger of anything leaking out, however, as the actors we interviewed at round table sessions had all been well-trained and media managed.
We were also walked through the flight deck, the many, winding corridors and an officer's suite where the series' openly gay couple — played by Anthony Rapp and Wilson Cruze — cohabitate.
The flight deck has that big Lazy-Boy chair in the middle, just like the one Kirk had. It was explained that the original plans called for a two-storey deck. That was scrapped, however, as cost over runs started to mount. Originally budgeted at US$7 million per episode, that number rose to a reported $8 – to $8.5 million. Times 15 episodes (to be broke into fall and winter seasons), that puts total costs at around US$125M for the season. Set phasers for stun!
Executive producer and showrunner Aaron Harberts suggested the two storey deck idea could be revisited if the series merits a second season pick-up.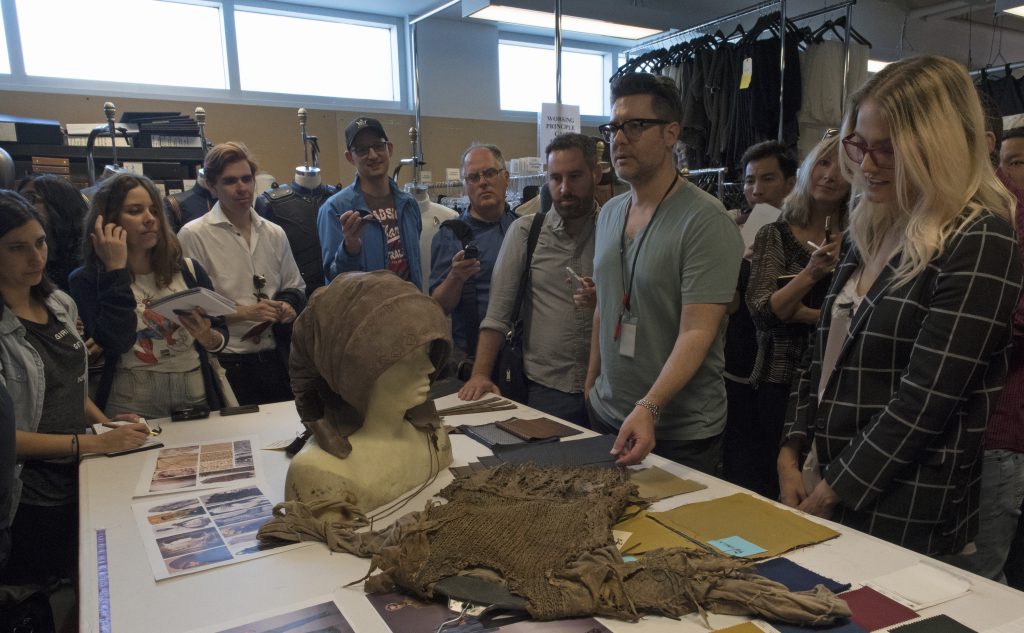 Harberts also walked reporters up to and under a massive set showing the underside of another Starship. It was surrounded by a gigantic blue curtain that wrapped right around the walls of one of Pinewood's largest soundstages in Toronto. This will allow the crew to record a universe of stars outside the starship windows.
Not part of the tour, unfortunately, was a trip aboard the Klingon ship, reportedly a stunner.
"Wait till you see the Klingon ship. Holy shoot," exclaimed Michelle Yeoh, who plays Captain Philippa Georgiou. "The first time I walk in I think, is this really a set? It looks like a gothic cathedral!"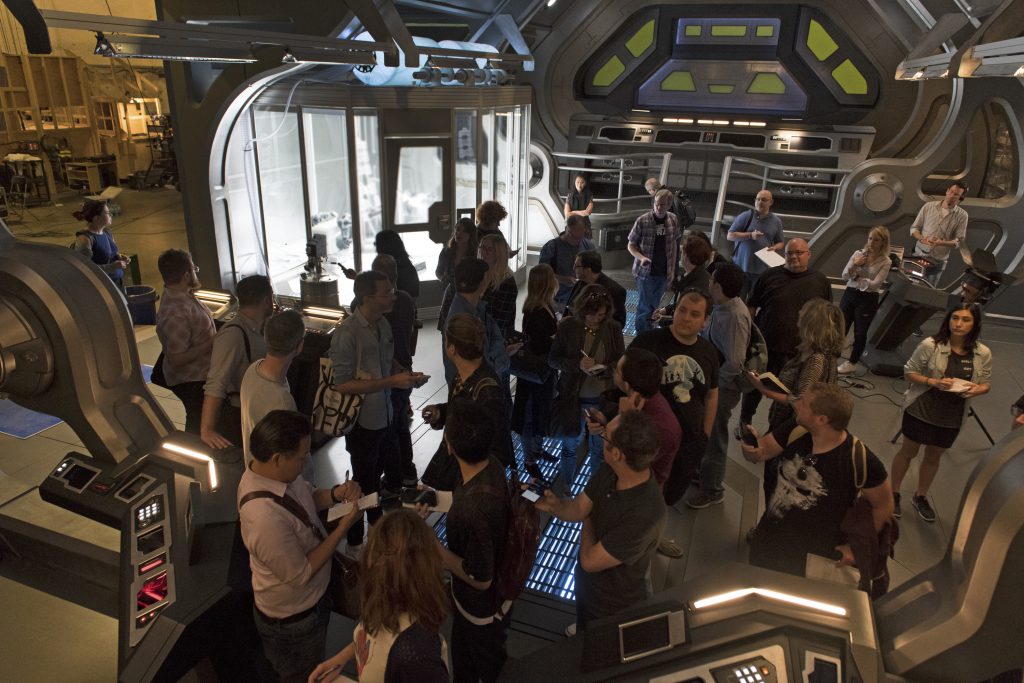 Harberts addressed the hire of Sonequa Martin-Green and how waiting for her to complete her contract on The Walking Dead pushed back production and the premiere of Star Trek Discovery. Harberts' predecessor as showrunner — Bryan Fuller — wanted Martin-Green bad enough to keep Star Trek on simmer, despite the costs. Harberts — who worked with Fuller on several previous projects — agreed with that decision. He explained how her character, First Officer Michael Burnham, is  a human raised and educated by Vulcans (including Spock's mother). "We wanted someone who would not be too Vulcan and not be too human. Sunequa's eyes are the windows to her soul. She has the quality where she can suddenly go internal."
The new series, he also explained, will be much more serialized than past Star Treks. There will be story arcs spread over two, three or even four episodes.
"We are in fraught times," he says of the setting, approximately ten years before Spock, Kirk and the Enterprise. "We're talking about war, conflict, racial purity and isolationism."
Sounds pretty much like a typical day's report now on CNN.
Read more about the launch of Star Trek Discovery here at this feature I wrote this week for The Canadian Press.