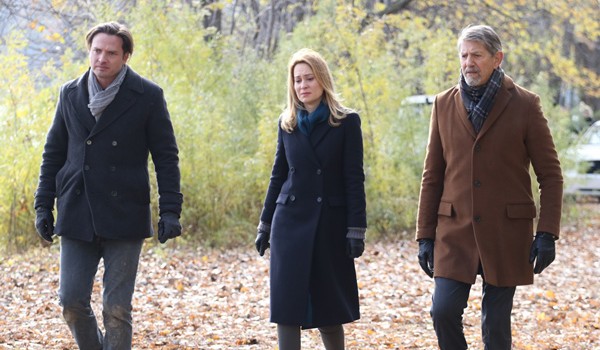 Tonight, The Disappearance will finally appear on CTV.
I was on location with the stars and crew nearly a year ago in a rural campground area a half-hour west of Montreal.
The six-hour limited run series is about a young boy of ten (played by the remarkably professional Michael Riendeau of Ottawa) who goes missing during a birthday treasure hunt. His grandfather, a retired judge played by Peter Coyote, takes the boy's disappearance especially hard. Veteran actress, director and Concordia prof. Micheline Lanctot, Aussie/Canadian Aden Young, Camille Sullivan (Shattered), Joanne Kelly and actor/musician Kevin Parent also star.
Coyote's very American voice, heard to great effect on Ken Burns' 18-hour epic The Vietnam War, held four reporters spellbound for over an hour as we sat around a table. He praised Peter Stebbings (Orphan Black) who directed all six episodes.
"You know, every actor should be lucky enough to film in Quebec," he said. "I can't think of a more enjoyable film I've ever had in terms of the comradely of the crew, the cast, the lack of authoritarian bullshit on the part of the directors and the producers. I think it's a charmed environment."
Usually clean-shaven throughout his film career, Coyote was sporting a goatee at the time of the interview.
"I grew this goatee seven years ago," he said. "Thought maybe it would give me a little gravity, I'd look like an adult, fool them a little longer."
He's extra picky about parts these days. The 75 year old just doesn't like to leave his small farm north of San Francisco, where he's happy to tend to his fruit trees and his dogs.
Three wives later, however, he can't turn down every job. He's open, especially, to these limited run series.
"I would never, at my age, commit to a series," he says. "In my sixties I thought, 'Oh, just give me a series. I can retire in five years I never have to work again."
Coyote tried to cash in with Law & Order LA (2011-12) but that barely lasted a season. When that ended, he went back to being picky.
"I dunno how long I'll live, but this is probably my last vigorous decade," he says. "So when you think about that, what are you going to trade that for? What are you going to giver half of that up for? Well, not any amount of money. My kids are grown; they're out of school and on their own. They're debt free. I'm amicably divorced. My alimony is reasonable. I just don't need to work that hard, so I don't."
It helps, he says, "that I was over-payed when I was younger."
"If I lived anywhere but California," he added, "I'd be really comfortable."
Read more about Coyote and The Disappearance here in this article I wrote for The Canadian Press.