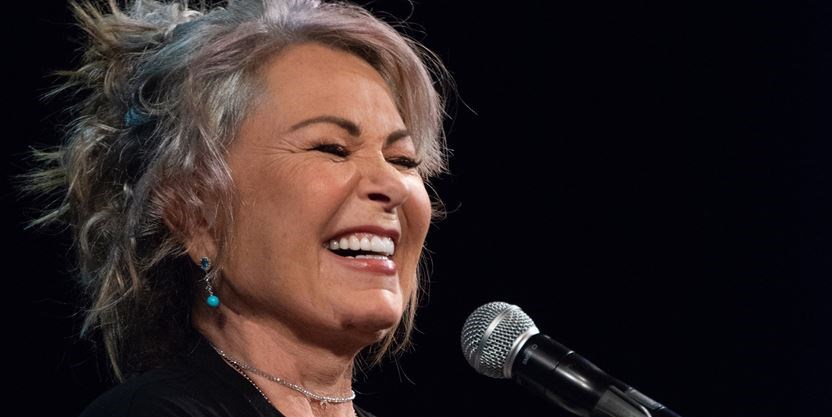 Roseanne Barr wasted no time Sunday night at the Rose Theatre in Brampton.
"Let's get going," she began, "before my booze and pills wear off."
The 65-year-old grandmother of six is, once again, the biggest star on television. The revival of Roseanne is a massive hit this spring, drawing close to 20 million viewers a week stateside and well over two million in Canada.
This despite Barr being such a polarizing figure — one of the reasons, perhaps, her show was not a sell out in Brampton's 880-seat Rose.
A brawl almost broke out last January at the ABC Day of the winter TCA press tour, when reporters piled on with the "why do you support Trump" questions. Barr stood her ground, pushed back, and let the press coverage explode. The series opened crazy huge, outdrawing viewership for its original series finale over twenty years ago.
Barr is in the middle of a swing through Canada that was booked — then re-scheduled — to accommodate production on the new series. There are shows Monday night in St. Catherines, Wednesday in Oakville and Friday in Guelph. She's already breezed through Burlington, Ottawa and Winnipeg. (For tickets go here).
The comedian moved to Hawaii 10 years ago and is not used to the cold. She was given an optimistic forecast when she asked several months ago about Canada in April; she arrived to find southern Ontario a "frozen tundra."
Viewers who see her live discover she's just as sassy and controversial in person ("Hi lesbians!" she shouted, going down a long list of groups in the audience on the night). She harpooned Catholics, asking how believers can hear tales of hundreds of thousands of scandals "and remain loyal to the brand." Her stand-up chops are impressive considering she probably doesn't need to do this anymore (she joked about being set now that she's collecting an old age pension). Barr has a stop and start pace to her show but her energy never flags.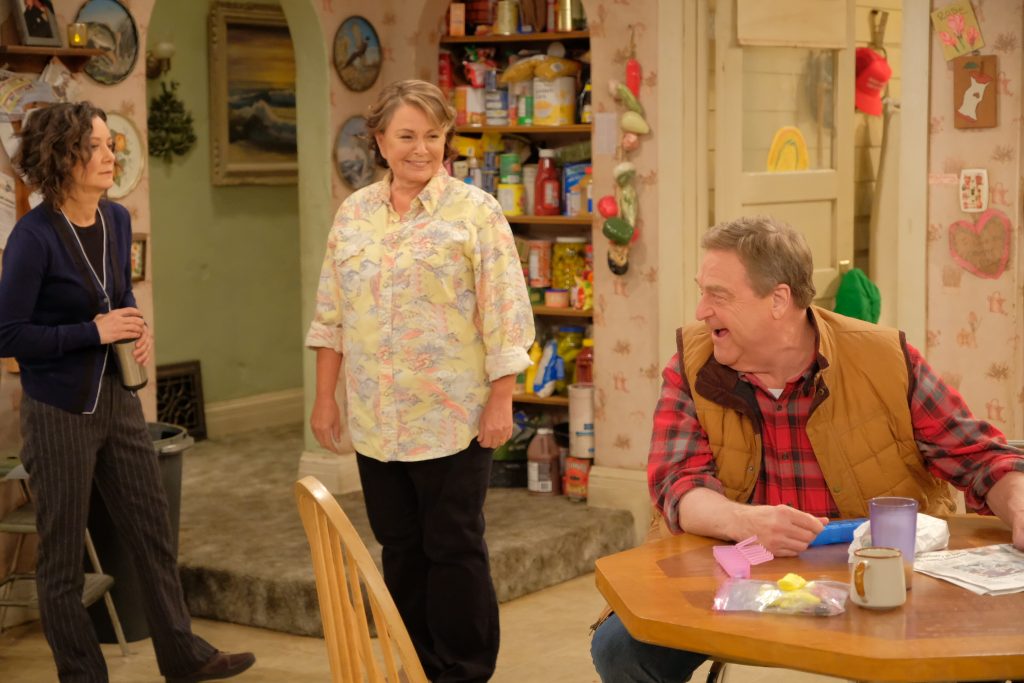 There was little talk of her series. She mentioned only one cast member by name: Sara Gilbert (above left, with Barr and John Goodman), crediting the actress and daytime talk show host for taking a lot of the production burden off her own shoulders. Early on, Barr also gave a shout out to one of her comedy idols, Joan Rivers, coincidentally one of the first big name performers to play Brampton's 12-year-old Rose.
The comedienne also showed a surprisingly vulnerable and sweet side. Roseanne came out in a skirt fashioned after the afghan draped over the old couch on her show, with a "Roseanne" T-shirt on top (complete with a CTV logo).
Despite her notoriety when it comes to her presidential tweets, not once did she mention Trump by name. She did ask if we had heard in Canada that there was a new president.
She said she had issues with Barrack Obama. She disagreed, for example, with take out of Osama bin Laden.
"They never should have shot him in the face," she said. "They should have made him suffer more. They should have made him marry Tom Arnold."
A lot of Roseanne's barbs are self-inflicted; many have to do with dieting and aging. "I have five of the three warning signs of Dementia," she joked. She roasts her five children — the oldest of whom is 47 — as money-grabbing weasels.
What make her seem sweet and very relate-able is her frank dialogue about her own mental health. You get a sense watching her and watching her show that if Roseanne can find a way to cope and stay smart and positive, well, we can too.
At the end of the show she gave a big thumbs up to laughter as the best medicine and then asked the audience to stay put while she took a selfie. She's posting them on line at her Instagram and Twitter feeds.
Her opening act Sunday in Brampton was K. Trevor Wilson, a funny and seasoned storyteller who kills on Letterkenny and at Just for Laughs but seemed a tad rushed and misplaced fronting for the second coming of Roseanne.