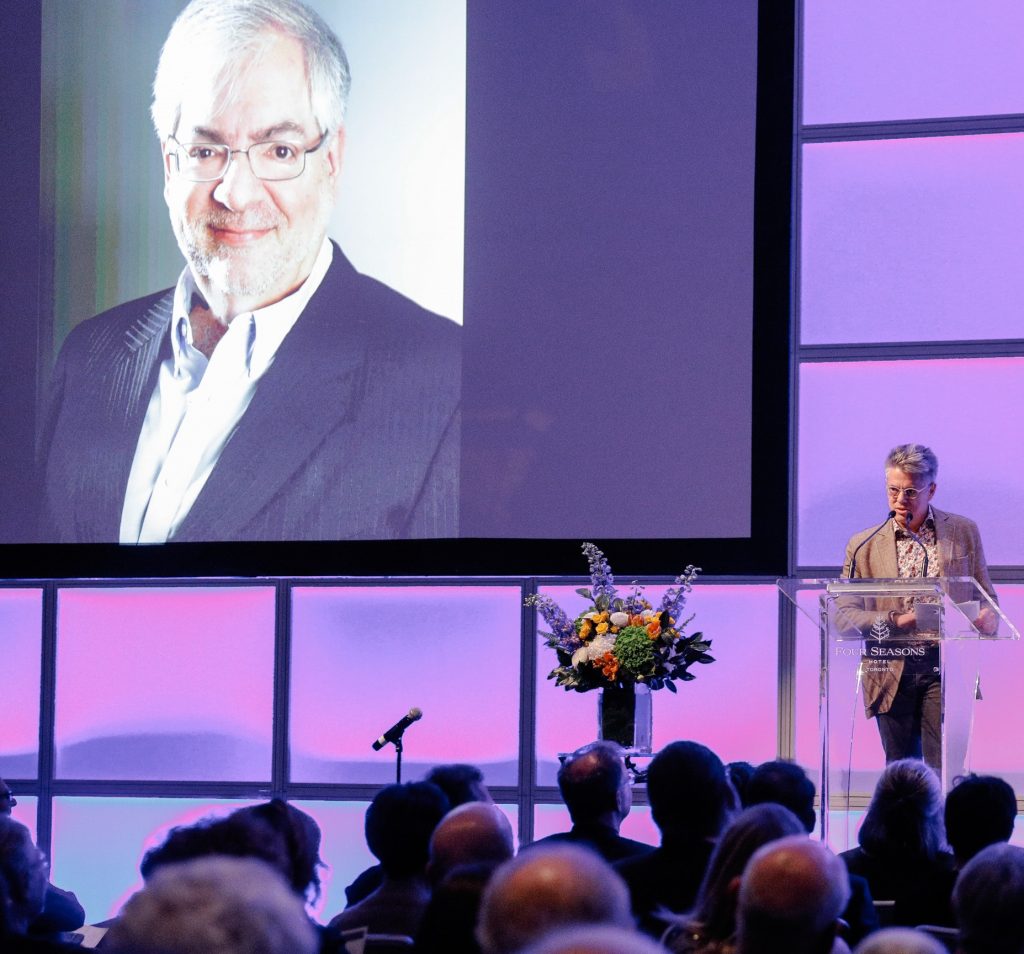 Wednesday in Toronto, Jay Switzer was remembered by his family and many friends in the TV business for being both the "Yoda of Canadian television" and the mensch of all media.
The Hollywood Suite co-founder and former CHUM/City broadcast executive would have loved the party his pals threw for him at the Four Seasons hotel. The packed affair was respectful and irreverent, joyous and tender, sobering and inclusive.
Once at the hotel, it wasn't hard to find the party. You just got on the elevator and followed the good vibes. Once inside, you found a foyer full of photos of Jay, some dating back to his childhood in Calgary. There was a Who's Who of colleagues, business associates and rivals inside, including two who flew up from LA: Armando Nuñez Jr. from CBS Studios International and Jeff Schlesinger from Warner Bros TV.
Ed Rogers from, well, Rogers, newly-appointed CBC CEO Catherine Tait, Corus EVP and COO Barbara Williams, Shaftesbury CEO and Switzer's fellow Canadian Film Centre board colleague Christina Jennings, Bell Media President Randy Lennox and Scott Moore, President of Sportsnet & NHL at Rogers Media were all in the house. Ivan Fecan, who worked with Switzer in the early City days before heading memorable regimes at CBC and Bell, also paid his respects.
William F. White CEO Paul Bronfman was there, as was film and TV producer Don Carmody. Lone Eagle head Michael Geddes, producer/literary agent Michael Levine and OUTtv boss Brad Danks. It was like a happy CRTC hearing, with cocktails.
As host, former MuchMusic boss Denise Donlon (above) did a terrific job setting the tone for the event, keeping things lighthearted, respectful and on-time — achievements her old colleague Jay would have admired.
There were heartfelt, emotional and hilarious remembrances from Barry Avrich (who presented a great little film about Jay), Switzer's childhood chum Dr. Richard Blackman, Hollywood Suite business partner David Kines, younger sister Chiara Switzer and Jay's beloved wife Ellen Dubin. Dubin read from a diary Switzer kept that dated back to when he was nine years old, where he kept track of how much he paid neighbourhood chums for tasks performed back in the day. Love notes she shared written on sugar packets and receipts were pure Jay and, as Donlon noted, must have lead to several men in the room getting elbowed in the ribs by their spouses with a "See?" attached.
Steve Kerzner thanked Switzer for helping him find his feet with Ed the Sock. "This is the longest I've spoken to a group of people and not been crouched in a box with my hand on the air," cracked Kerzner.
Many former City-TV colleagues were in the house, including Marilyn Denis, Master T, Mary Powers, Steve Hurlbut, Ellen Baine and others. It was a room full of people who made it to the promised land — minus Moses.
There were even two music performances: one from June Garber, who sang at the Switzer's wedding, and one from Darrin Baker, who sang "Till There Was You" from "The Music Man."
Garber's  emotional rendition of Charlie Chaplin's classic ballad "Smile" had folks smiling — through tears. As noted by every speaker, Switzer had a remarkable ability to make almost everyone he encountered feel better about themselves. In a business where rivals could back over you several times over a ratings point or crush you with their egos, that was an exceptional gift.
In the last few years, mainly during drives to and from the Banff TV fest, I was privileged to spend a little time with Jay. I enjoyed his great instincts and savvy grip on the ever-churning business of television. More than that, there was his joy at simply everything. Onion rings. Airplanes. His wife. His ridiculously lavish hotel room at the Banff Springs. The latest buzz-worthy TV show. Somebody else's good fortune.
Attending Wednesday's celebration of Jay's life made me wish I had known him better and had spent way more time with him — which is exactly how a celebration of life should go. Congrats to chief organizer Kines, the Switzer family and all involved.